Visually Plan a Scroll-Stopping Instagram Feed
Effortlessly plan a week of Instagram-perfect posts and arrange them into a beautiful, must-follow feed, in minutes.
More than 700,000+ brands and creators trust Tailwind


Visual Planning
Take Control of Your Feed
Drag-and-Drop Grid
It's the hands-on way you wish Instagram posting worked!
Preview Your Feed Before You Post
Guarantee every new follower a picture perfect first impression, every time.
Best Photos, Meet Your Best Posting Times
Just bring your favorite photos, we know the perfect times to post them.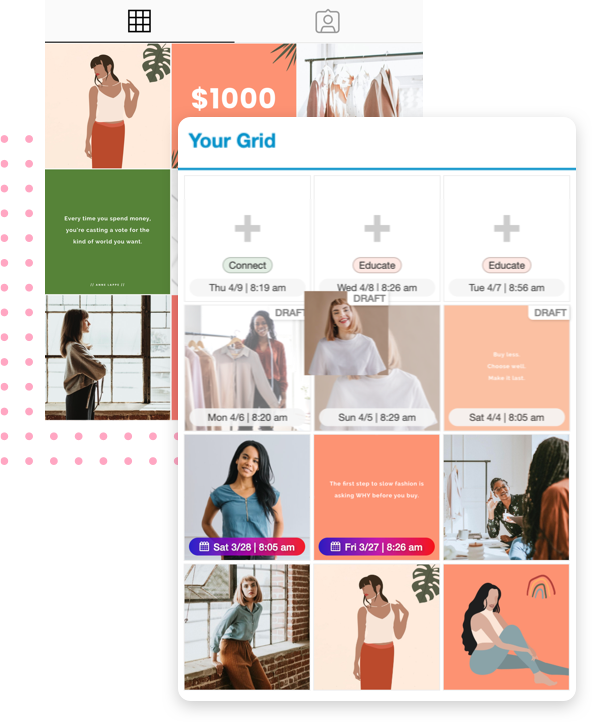 Content Plans
Never Run Out of Post Ideas Again
Personalized Post Inspiration
Choose themes and get prompts with inspiring example posts.
Caption Templates
Sidestep writer's block with Mad-lib style caption templates to unblock your creativity.
Recommended Post Types
See your color-coded plan in your 9-grid so you can stay consistent.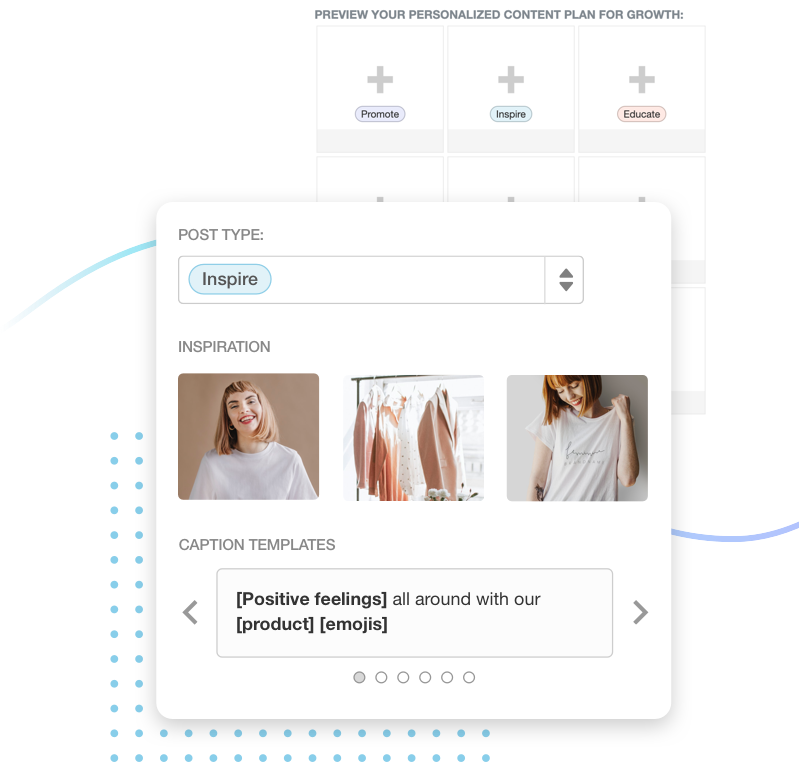 Smooth Scheduling
Publish With Peace of Mind
Auto Post to Instagram
Ditch the distractions and pesky push notifications. Tailwind automatically publishes your posts and videos to Instagram.
Schedule Stories and Multiple-Image Posts
Boost your engagement by scheduling ALL of your Instagram content including multiple-image posts and Stories.
Schedule Hashtags in First Comment
Keep your captions looking clean by scheduling your hashtags to post in your first comment instead of your caption.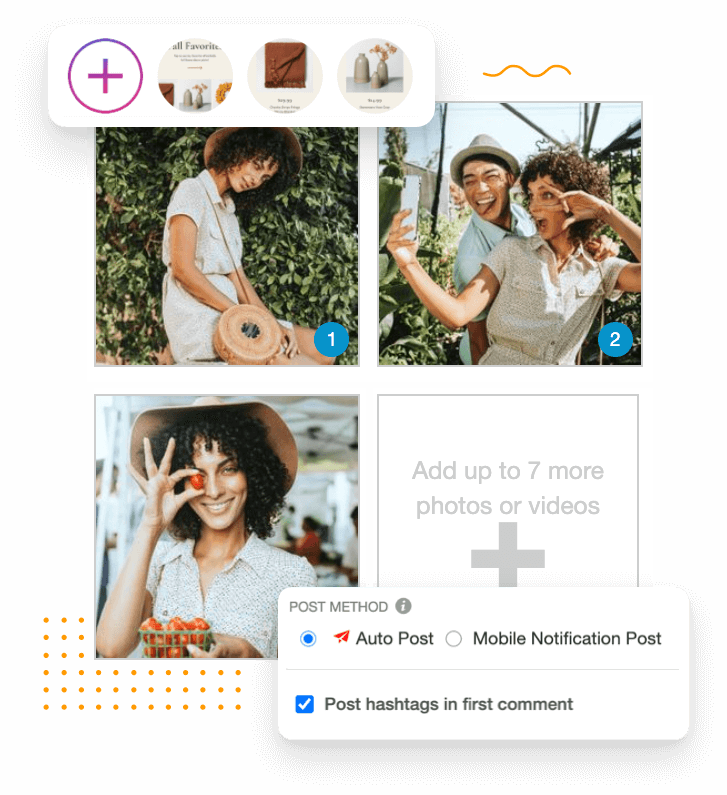 100% Safe to Use
Tailwind is an official Instagram Partner, so you can rest easy knowing your account is safe.
Visual Planning Makes Our Members
Feel

...
Confident
With smart recommendations there's no need to second-guess yourself.
Creative
Post and caption inspiration lift you to new creative heights.
Organized
Enjoy peace of mind knowing your Instagram posts are already planned out.
Captivating
It's so much easier to make your profile irresistible with a drag and drop grid.
I only have good things to say about @TailwindApp - their product is amazing and their customer service is even better. I LOVE when companies are as passionate about their users as they are their product.

— Lauren "Elle" Mulenos (@ElleMulenos) November 21, 2019
Can I just say? I freakin' love @TailwindApp. I've used Hootsuite, Crowdfire, Meet Edgar and Buffer, but Tailwind is my fave. They all have their pros and cons, but the TW has the most going for it.

— Nancy Basile | DIY Online Marketing (@NancyBasile14) March 27, 2019
Shout out to @TailwindApp for helping me out with Pinterest when I have 100+ other things on the go 🌟🙌🏻

— Cyn 💕 | lifestyle + Ottawa (@cynspo) March 27, 2019
Found out I can schedule IG stories from @TailwindApp oh no... look at this game changer! 😩🙌🏾

— Christyyyyyy🇧🇸 (@n_goddessxo) August 11, 2018