Power Tools for Pinterest
Delivering Insights so you can Take Action
Measure Your
Performance
See your progress over time and prove ROI.
Track growth in Followers, Repins, Likes and Comments across any time period and compare against previous periods.
Benchmark KPIs like Virality, Fan Engagement Level and Content Engagement Rate across boards or against competitors.
Drill down into content performance by category, board, keyword, #hashtag and pin.
See Your
Complete Footprint

Across Pinterest
Harness your buzz to discover purchase signals, qualify leads, track campaigns and find point-of-need conversations to acquire new customers.
Discover Trending Pins from your domain and Measure Organic Brand Activity.
Leverage our Image Recognition Technology to surface top images pinned from your website.
Find your most actively engaged Pinners in Real-Time to reach them while you're top-of-mind.
Listen for conversations about your brand across Pinterest using Keywords and #Hashtags.
Get to
Know

Your Audience
Love your customer and they'll love you back
Meet your top brand advocates and engage them where you prefer: Pinterest, Twitter, Facebook, and even their own blog.
Find and connect with influencers in your field to broaden your reach.
See who pins from your site and repins your content most; then dig in to learn what else they love.
Get the
Scoop

with Competitive Insights
Learn from your competitors' success, identify their biggest fans and intercept their customers before they buy.
Benchmark across all metrics including virality, engagement, audience, content quality and organic pinning activity from domains.
Eavesdrop on their newest pins, boards and followers and see what's trending.
Uncover their best performing boards and content.
Identify and recruit their most influential pinners and brand advocates.
Optimize Content Strategy and
Pin Smart
Optimize your pinning strategy by understanding what's working and what's not. Reach more fans with a data-driven approach that drives more followers, repins and traffic.
Filter and Sort through all of your pins by board, category, date, keywords, hashtags and more to uncover what is actually driving your engagement, awareness and growth.
Heatmaps of your activity, virality, and audience provide immediately actionable insights in a simple at-a-glance view
Find Optimal Days and Times to pin based on when your audience is most engaged.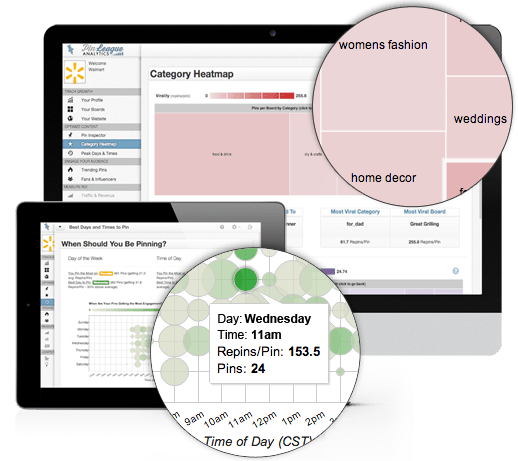 Link your Pinterest activity to website traffic, conversions and revenue to make sure the results are worth your investment.
Connect Google Analytics to track your Most Profitable Activity.
Track revenue from pin to purchase.
Find out who is driving traffic and revenue to your site.
Refine your Pinterest strategy to better align with your business goals and increase your bottom line.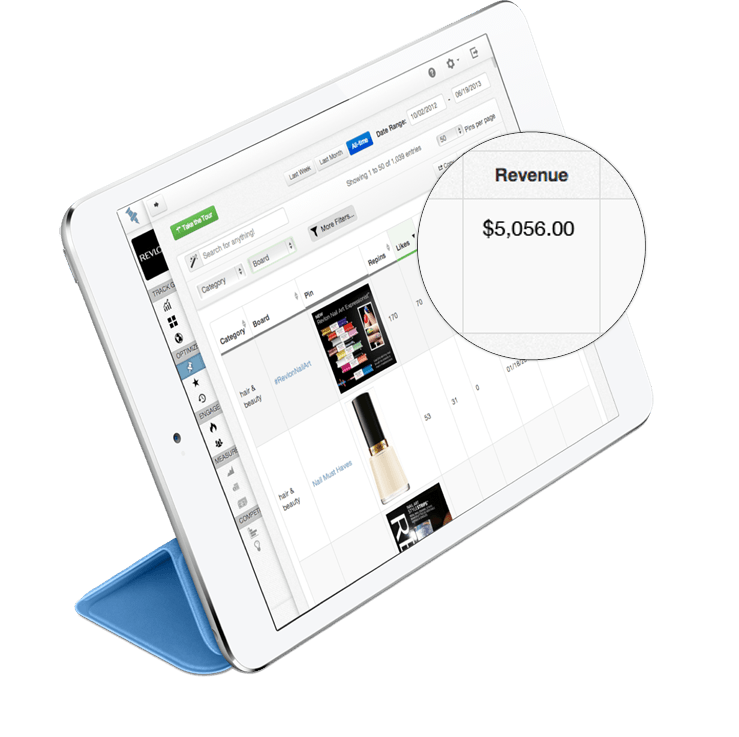 Your Pinterest Username is found in the URL of your Pinterest profile:

http://pinterest.com/username/

WHAT CUSTOMERS ARE SAYING
"I love the layout, it's so intuitive, and the data is just incredible!"
"Rather than simply applying another social platform's methodology onto Pinterest, the Tailwind team has taken a holistic approach to measuring the unique platform, putting in some great original thinking with offerings such as the Trending Pins and Category Heatmaps."
"I love the ability to see our most popular pins and growth. The dashboard is easy to use and super simple to understand. Your team is always so helpful and quick to answer any questions."
Your Pinterest Username is found in the URL of your Pinterest profile:

http://pinterest.com/username/