In this case study you'll learn:
How a small ecommerce store struggled with reaching their target audience in spite of having all the right ingredients for growth
How the latest advances in AI and ad technology unlocked the key to growth
How you can use the same advertising technology to grow your online store
The struggle to reach more customers
Pierre Yves Monnerville owns a men's clothing ecommerce store he founded in 2018. His company offers an extensive range of t-shirts and other accessories with bold messages about embracing who you are. He powers his store with Shopify so he's able to receive and fulfill international orders from his home in the UK.
Pierre faced an all too common challenge shared by many small ecommerce businesses — he is able to generate orders and his customers love his products, but he did not know how to grow. He seemed to have reached a plateau and wasn't sure how to create steady month over month growth. He'd tried a lot of different marketing tactics and channels with limited success. He struggled to get a positive ROI even with retargeting.
At Tailwind our mission is to make marketing easy for small business owners like Pierre. We recently introduced Tailwind Ads — an exciting new way to help ecommerce stores like Pierre's reach new customers with AI so they can grow quickly and efficiently — and Pierre jumped at the chance to put this powerful new technology to work on his business.
AI-fueled growth
Tailwind Ads' AI helps ecommerce stores create successful ads in two major ways. First, it generates the ads themselves for you. It analyzes your website and products and then generates ad copy optimized to appeal to your target market. If you're like Pierre, you may be skeptical of how good AI is at generating human-sounding copy that accurately reflects your brand and voice.
Pierre was pleasantly surprised by the quality of the ads and how they reflected his brand: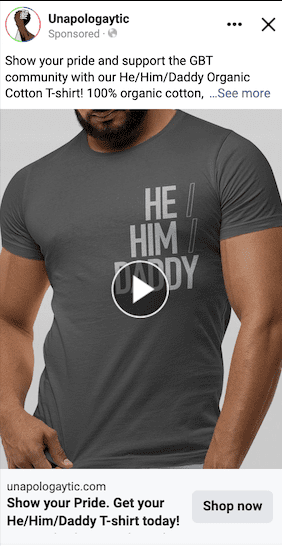 He also found the new ideas and perspective that AI brought useful. The AI generated ad copy used fresh ideas and approaches he would not have considered.
The second major way Tailwind Ads AI helps ecommerce companies create successful ad campaigns is by handling the optimization aspect of digital advertising. If you've ever run online ads, you know that creating the ads is just the beginning — the key to success and the bulk of the work is ongoing optimization of the ad copy and adjusting bids to find the delicate balance between spend and return.
There are some things AI can do better than humans. Analyzing massive amounts of data and responding in real-time is one of those things. AI can "listen" to the stream of ad performance data 24 hours a day, 7 days a week and instantly make micro-adjustments to your bid strategy so that your ads perform at their optimal level. With AI managing your ad campaigns, every dollar you invest in paid ads creates maximum return, and you don't have to invest any of your time into interpreting the data and making adjustments.
Tailwind Ads: AI-driven results that speak for themselves
Pierre had tried paid advertising in the past with mixed results. He struggled to get a positive ROI even with retargeting — often one of the easiest ways to achieve positive return on ad spend.
Since starting with Tailwind Ads, Pierre has been able to reach and engage his customers, bring them to his online store, and generate purchases at a low cost. In fact, in spite of his past struggles with achieving positive results from paid ads, he has scaled up his advertising budget since switching from managing his ads on his own through Meta Ads Manager to Tailwind Ads AI-driven ads. He's actually increasing his investment in Tailwind Ads because he's seeing more traffic to his store, more people signing up for his newsletter, and more sales of his shirts and accessories.
He's finally able to find and reach more and more new customers in an affordable way. Tailwind Ads is the perfect tool to fuel Unapologaytic's growth and help Pierre achieve his mission of helping people everywhere embrace who they are.
Interested in using Tailwind Ads to reach more customers and grow your online store? Join our private Beta. We'll reach out to you when a spot opens up!