Your end-to-end solution for winning on Pinterest and Instagram
A new standard in Visual Marketing, Analytics and Management.

Trusted by over 50,000 Brands and Agencies
Tell us about your marketing goals:
The Smartest Way to Schedule Pins on Pinterest
Save Time: Multi-board pinning, bulk upload, drag-and-drop calendar and many more shortcuts built with your busy schedule in mind.
Maximize your Reach: Automatically optimize your pinning schedule based on when your audience is most engaged.
Measure Success: Get deep insights on published content to see what's working and what's not.
Schedule like a Pro: Our crafty Browser Extension lets you easily create multiple pins from any site with a single click - even repins on Pinterest!
Affordable for Small Businesses, Extensible for the Enterprise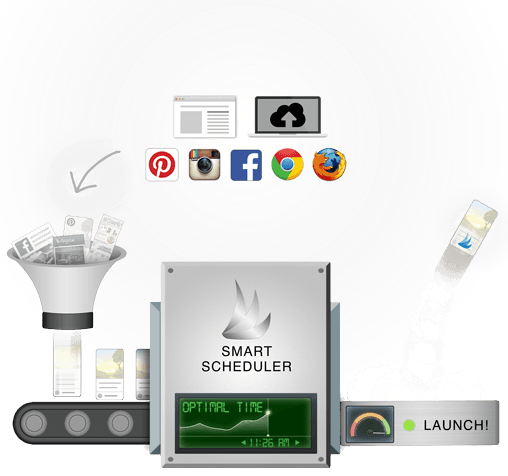 Versatility without Complexity
Master Your Calendar
Choose specific dates and times to pin, or simply add to a queue that's hooked up to one of your pre-set schedules.
Made for Teams
Manage multiple accounts, and invite colleagues to collaborate with you.
Reliable and Secure
Our direct Pinterest integration means you can have peace of mind that your pins will publish exactly when you expect.
Complete Brand Insights
360-Degree View: Monitor when others Pin from your website and uncover trends from recent Pinterest activity.
Key Performance Indicators: Track your Pinterest profiles, pins from your domain, #hashtags, and more.
Easy-to-use: Insights from your Pinterest analytics surface what matters most so you can focus on driving real business results.
Keep Track
Monitor brand mentions, track Pinterest followers, boards, pin stats, repins and more with Tailwind Pinterest analytics.
Get Smart
Analyze content trends on Pinterest to gain insight into what your audience wants.
Optimize
Track results to know what's working and deliver more Pinterest content your audience will love.
"Tailwind's Pinterest Scheduler allows me to engage effectively with my audience across the globe and ensure I don't "spam" my followers with too many pins at the same time."
-- Neal Schaffer, Founder and Editor-in-Chief
Maximize Social Business
"In an ever emerging space of social platforms and tools to measure them, Tailwind has got the right approach with a balance of topline summary KPIs and the option to dive deeper into the data for power users.

Best of all, they are ever tinkering for better approaches and visualizations, and taking feedback from clients to tackle the research challenges we marketers face. Great work!"
One System for Visual Marketing Success
Tailwind is the only platform that helps you manage and optimize visual campaigns from end to end.
Content Management

Manage branded content, UGC and recommendations from the visual web all in one place.

Smart Scheduling

Stay top-of-mind and build lasting engagement while saving hours in the process.

Actionable Analytics

Leverage your data to guide your content strategy and make smarter decisions.
Monitoring & Listening

Cut through the noise and discover key trends about your brand and industry.

Contests & Promotions

Build brand awareness, drive traffic, and grow your audience with contests and sweepstakes.