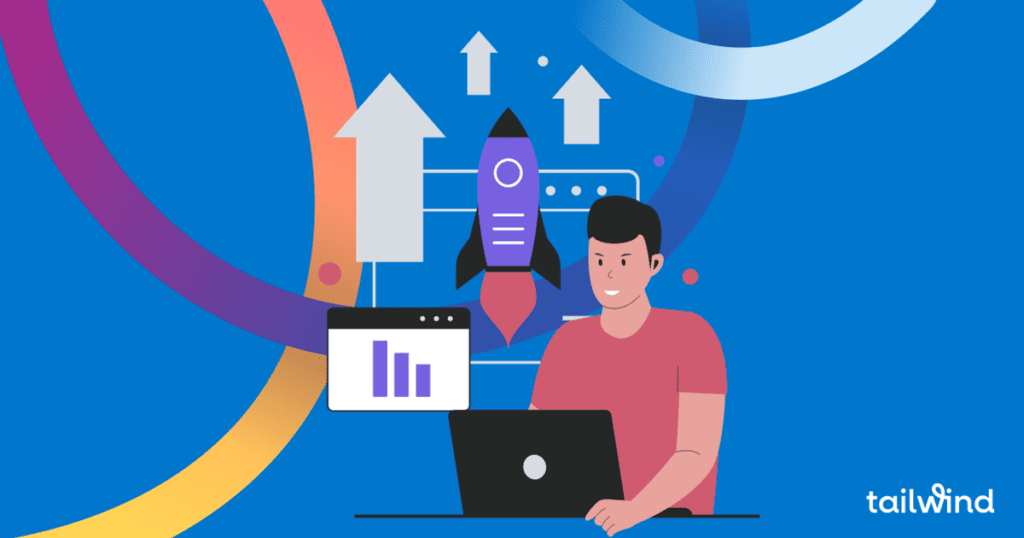 We often find ourselves trapped in the seemingly endless cycle of Google's algorithm changes.
Sound familiar?
Sure, Google is trying to retain an audience while expanding the space for more ads. Understandable. But these changes can drastically impact your site traffic.
This is where traffic diversification becomes essential. For that, Pinterest and Facebook are your best bets.
Let's delve deeper into their potential and understand how they can be the bedrock of a diversified digital strategy.
Google Traffic Is Not Guaranteed
Getting organic traffic is getting harder every quarter.
Time and time again, Google makes core-algo updates that reshuffle the top results, seemingly giving more power to the most "authoritative" ones.
The latest update (called HCU, short for Helpful Content Update) was one of the most impactful we have seen lately.
With some niche sites losing 50-80% of their traffic overnight and being replaced by results from Reddit and Quora, many people realized that they might be relying on Google way too much.
All in all it seems that:
EEAT (Experience, Expertise, Authoritativeness, and Trustworthiness) content and personal experience are not a guarantee of good SERP results.
AI answers are replacing top results, so more searches end in zero clicks.
More space is being given to ads.
Those are just a few of the reasons why webmasters — or anyone dependent on a website for their business — should consider diversifying their sources.
Two traffic sources shine the most: Pinterest and Facebook. Let's dive in.
Pinterest: The Untapped Traffic Goldmine
If you're looking to diversify your traffic sources, Pinterest is an untapped goldmine that you should definitely consider.
With over 400 million active users (with the majority from the US), Pinterest can become a valuable traffic source.
There is one misconception about Pinterest that still prevails — that Pinterest is a social media platform.
That would be the wrong way of approaching it. The right one is to think about it as Google for images. 
"Pinterest should be your first choice when it's time to start diversifying your traffic sources! As a Pinterest Manager, I can confidently say that now is the best time to get serious about your Pinterest marketing strategy. The platform's monthly active user growth just hit record numbers, and I'm personally seeing brand new accounts rank high in the algorithm and gain traffic in niches we didn't think could work on Pinterest in the past."

Amy LeBlanc
Pinterest Manager & Educator
https://www.leveeroadstudio.com/
How Pinterest Functions as a Search Platform
Pinterest is a platform where users can search for ideas, inspiration, and solutions to their problems.
When a user types a query into the search bar, Pinterest's algorithm shows them relevant pins that match their search intent.
This means that if you optimize your pins with the right keywords and descriptions, your content can show up in front of millions of users who are actively looking for what you offer.
Why Pinterest Traffic Matters
Pinterest traffic is valuable because it is highly targeted and has a longer lifespan than traffic from other social media platforms.
A pin can continue to drive traffic to your website for months or even years after it was originally pinned.
Additionally, Pinterest users are known to have higher purchase intent than users on other platforms, making it a great source of traffic for ecommerce businesses.
Benefits of diversifying to Pinterest
Firstly, it can help you reach a new audience that you may not have been able to reach through other channels.
Secondly, it can help you reduce your reliance on Google, which can be unpredictable in terms of algorithm updates and search traffic fluctuations.
Thirdly, if you play your cards right, you can start getting organic clicks from Pinterest tomorrow. No more waiting for 3-6 months for your link to get indexed on Google.
Finally, it can help you build a stronger brand presence by showcasing your content in a visually appealing way.
Creating an Effective Pinterest Strategy
If you do not know where you are going, it does not matter which road you choose…Don't fall into that trap!
While Pinterest may sound fantastic (and it is), it requires work and consistency to stand out from the crowd and deliver continuous results.
Setting Up a Pinterest Business Account
Before you can start implementing a Pinterest strategy, you'll need to set up a Pinterest business account.
This will allow you to access Pinterest's analytics and advertising features. To set up a business account, follow these steps:
Go to Pinterest.com/business/create/
Fill out your business information
Claim your website by adding a meta tag or uploading an HTML file
Verify your website
Once you've set up your business account, you can start creating boards and pins to showcase your content.
Creating Engaging Pins
Pins are the visual content that users save to their boards. To create engaging pins that will attract clicks and drive traffic to your website, follow these best practices:
Use high-quality images that are visually appealing and relevant to your content
Add text overlays to your images to provide context and make your pins more informative
Include calls to action in your pin descriptions to encourage users to click through to your website
Use Pinterest's Rich Pins feature to provide additional information about your content, such as product details or recipe ingredients
Check out Pinterest's tips for making great Pins.
Utilizing Pinterest SEO
By now, you know that Pinterest is a search engine, so it's important to optimize your content for search. Here are some tips for optimizing your content for Pinterest SEO:
Use relevant keywords in your pin descriptions and board titles
Include hashtags in your pin descriptions to make your content more discoverable
Use Pinterest's guided search feature to find relevant keywords and popular search terms
Analyze Pinterest trends and Google trends to identify topics that are growing in popularity
Organize your boards around specific topics to make it easier for users to find your content
Leverage seasonal content
By following these best practices, you can create an effective Pinterest strategy that will help you attract new visitors and drive more traffic to your website.
PRO TIP: An easy place to start on Pinterest SEO is to use the related search function in the platform. Enter your topic, and see the related ideas that pop up. Try these in your Pin Descriptions and board titles.
Leveraging Facebook for Diversified Traffic
With over 2 billion active users, Facebook needs no introduction. It offers a massive audience that you can tap into to drive traffic to your website.
Here are some tips on how to leverage Facebook for diversified traffic:
Grow Your Facebook Page Following
To drive traffic from Facebook to your website, you'll need to have a Facebook page with a significant following. Here are some tips on how to grow your Facebook page following:
Engagement ads! Experiment with copy and visuals until you reach the minimum price per follow. In some niches, $0.05 – $0.10 per follower is not unusual.
Share quality content that your target audience will find interesting and engaging.
Use Facebook's paid advertising options to promote your page and reach a wider audience.
Engage with your followers by responding to comments and messages promptly and regularly.
As you can see, the main way to drive traffic from Facebook is to build up your Facebook page and start posting links to your content or newsletter subscription list.
Grow your page to 1000 followers and start experimenting with posts to see if you have the right audience and at which CTR (check our ads glossary for a guide to advertising lingo) you are able to convert them from Facebook to inbound traffic.
Developing a Facebook Content Strategy
Once you have a significant following on Facebook, you'll need to develop a content strategy to drive traffic to your website:
Share a mix of content types, including text posts, images, videos, and links to your website.
Use Facebook Insights to track the performance of your content and adjust your strategy accordingly.
Experiment with different posting times and frequencies to find what works best for your audience.
Track your competitors and see which posts worked for them.
By leveraging Facebook's massive user base and developing a strong following and content strategy, you can drive significant amounts of diversified traffic to your website.
Maximizing Blog Content for Pinterest and Facebook
By optimizing your blog content for these platforms, you can save quite a bit of time when driving traffic from them.

Just make a Pinterest image and a proper social meta description a part of your editorial process, and you easily share the post on Pinterest and Facebook (and make it more "sharable" for your readers).
Need help with that meta description? Try the blog post title/description generator in Tailwind Ghostwriter.
If your content is Pinterest-friendly you should, by default, have a pin-sized image in your post (and Pin-it plugins) to make it easier for users to pin.
Creating Pinterest-Friendly Blog Posts
Pinterest is a visual platform, so it's important to create blog posts that are visually appealing and easy to share on the platform. Here are some tips for creating Pinterest-friendly blog posts:
Use high-quality images: Use high-quality, visually appealing images in your blog posts. Vertical images tend to perform best on Pinterest, so aim for an aspect ratio of 2:3 or 1:2.1.

Add text overlays: Adding text overlays to your images can help them stand out on Pinterest. Use clear, easy-to-read fonts and keep the text short and sweet.

Create pinnable graphics: In addition to using images in your blog post, create pinnable graphics specifically for Pinterest. These graphics should include a title, description, and your website URL.

Optimize your descriptions: When you pin your blog post to Pinterest, make sure to include a keyword-rich description that accurately reflects the content of your post.

Promoting Blog Content on Facebook
Share your blog posts on your Facebook page to reach your followers and encourage them to visit your site.
(Optional) Join Facebook groups related to your niche and share your blog posts with the group. Make sure to read the group rules before posting.
Use Facebook ads to promote your blog posts to a wider audience. You can target your ads to people who are interested in your niche or who have visited your website before.
Engage with your audience on Facebook by responding to comments and messages. This can help build relationships with your followers and encourage them to visit your site.

Pinterest and Facebook for Product Pages
While sharable and catchy content headlines will do great on these two platforms, you can of course test the promotion of your product pages as well.
You can experiment with putting various promotions on your product pages and linking to them, or relying on the post (or image in case of Pinterest) as the main "content" part while the link of the post would just lead to your product.
Utilizing Analytics for Traffic Optimization
To successfully diversify your traffic sources, obsess about your analytics to understand where your traffic is coming from and how to optimize it.
Understanding Pinterest Analytics
With Pinterest Analytics you can track your profile's performance, see which pins are driving the most engagement, and learn more about your audience.
One of the most useful features of Pinterest Analytics is the ability to see which pins are driving the most traffic to your website.
PRO TIP: Use Pinterest Analytics filtering to be sure you are analyzing the Pins you create for your own content, and if you have any boosted Pins, look at those results separately.
By identifying your top-performing pins, you can create more content that resonates with your audience and drives traffic to your website.
Another useful feature is the ability to see which boards are driving the most engagement. By analyzing which boards are most popular with your audience, you can create more content that aligns with their interests and drives engagement.
Leveraging Facebook Insights
Insights provide a deep dive into how your content is performing, offering an under-the-hood look into what's resonating with your audience.
When you start out, do a lot of tests. Post various content and let Facebook Insights give you signals of what works and what does not.
By identifying posts that are driving the most engagement, you're better equipped to craft content that aligns with your audience's interests, ensuring even more clicks.
Summary
Organic traffic is becoming more and more volatile, with many things completely beyond your control.
With the incoming age of AI, how many of the top positions (at least that are in the user's eye level) will be organic, and how many of those will Bard (Google's AI) answer? Will Google release another update that will prioritize a different form of content than you have?
There are a lot of questions, but one thing is certain…and that's uncertainty.
It is obvious that nobody can base their business on luck and wishful thinking. So start diversifying today, as tomorrow it could already be too late.