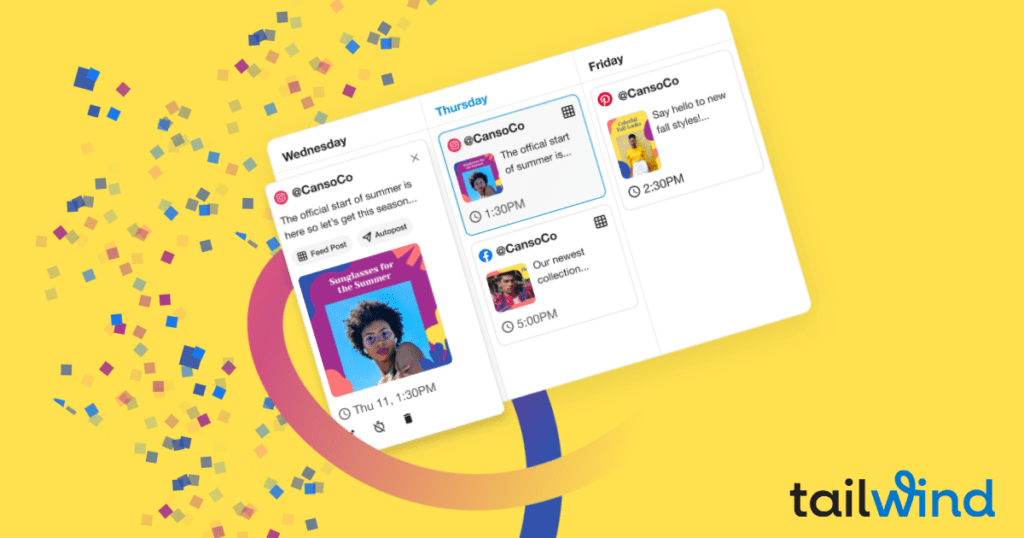 Are you looking for a simple, effective way to streamline social media management? Look no further than Tailwind–the easiest social media scheduler for teams and individuals to use.
From automating posts to finding and scheduling inspiring content, Tailwind is packed with features to help you take your social media presence to the next level. With its easy-to-use dashboard and fast customer service, you'll learn how Tailwind will make your social media a breeze. Plus, get data-driven insights to measure performance and evaluate campaigns.
Find out why Tailwind could be the only social media tool you need and how you can make the most of it.
But First, What is Tailwind?
Tailwind is your pocket-sized digital marketing tool that manages your entire funnel in one dashboard. It can be your social media planner, writer, designer, and manager–all in one account.
Moreover, Tailwind is not just any tool; it is designed to work as your business's personal marketing assistant AND your social media manager. With Tailwind, you can easily create, design, draft, and schedule hundreds of posts customized for Instagram, Facebook, and Pinterest in just one go. Tailwind is easy to use, with built-in features to help you grow your blog and save time!

10 Reasons Why Tailwind is the Easiest Social Media Scheduler to Use
1. No more guesswork! Tailwind takes the worry out of social media.
Ever felt like you're not hitting the right spot with your social media strategy? Tailwind snaps the uncertainty out of social media planning with cutting-edge features like Create, Scheduling, Email, and Ghostwriter AI for copy. Tailwind takes the uncertainty out of social media. As one of our users shared:
"It's so easy to use! And helpful with all the hashtags, the timing of posts, etc. – it really takes all the guesswork out of social media. It's perfect for busy business people."

Sweet P Weddings
2. Tailwind does all the work
Tailwind is your pocket-sized Marketing team capable of almost any marketing task you need. From planning, drafting copy, scheduling, and publishing social posts to analyzing your marketing performance, there is a Tailwind feature for all of these steps.
In the words of Alaina Carter, a successful e-commerce business owner:
"It's a product that will save you time. It's affordable. It helps you get past those creative blocks, and it also helps you really just get on with your life. It fits so easily into your busy life, right? It pretty much does the work for you. After you spend a little bit of time putting the pieces together, it will do the work for you."
3. Universal scheduling
One platform, multiple social media sites. Schedule your posts to Instagram, Facebook, and Pinterest all at the same time. Scheduling for social media might seem a simple part of digital marketing, but posting consistently makes a big difference!
With Tailwind in the palm of your hand, that worry will stray far away. Just like how Emily Hare, founder of Emily Hare Art, shared her experience with Tailwind:
"It's so easy to set up my posts, and I can forget about them and not have to do it manually each day!"
4. Pre-made templates makes creatives a breeze
Tailwind automatically generates images for you to post to Facebook, Instagram, and Pinterest in one go. With zero designing expertise required, you can customize the creatives to fit your brand yet optimize for the platform you are posting on. Tailwind's extended collection of customizable templates for social posts on different channels lets you keep moving, pushing out content, and meeting deadlines with ease.
"I've been absolutely loving Tailwind Create! It saves me so much time by giving me easy-to-tweak designs and color palettes and makes it quick to incorporate CTAs. I'm looking forward to using this valuable tool even more in the future."

Brooke & Emma, Savor the Flavour
5. Tailwind saves you time
Be honest, how much time does it take you to go through your day-to-day tasks for social media? No matter how long your process is now, it can be much quicker and easier with Tailwind. Because the tool is built for small businesses, Tailwind is designed to apply best practices in marketing to help its users achieve more in a shorter time.
"Having a tool like Tailwind makes the scheduling easy, makes us able to work it around our schedule, and helps us target the right times to post"

Laura Longwell shared how Tailwind helped her planning and saved time with social media.
6. "Set It and Forget It" Scheduling Feature
Scheduling for social media channels like Facebook, Instagram, Pinterest, has never been easier when you have Tailwind in the palm of your hand!
"It is so easy to use! I can schedule Pins and Instagram and Facebook posts quickly and easily. Tailwind takes the daunting task of keeping up with social media for my business and makes it into an enjoyable task."
7. Tailwind Ghostwriter AI makes writing everything easy.
Ghostwriter is trained on the best practices used by professional marketers to generate relevant and customized results. It instantly creates the copy you need for you, so you no longer have to struggle to find the right words or suffer from writer's block. With Ghostwriter, you can create great marketing content quickly and easily, and focus on other important aspects of your business.
Rebecca Rojas, an e-commerce blogger shared how she succeed with the help of Tailwind:
"The idea of it is just a great idea. It's something that I kind of always wished I could have. Something where I could just type in my title, subtitle, my logo and then just have everything right there on the screen."
8. Built-in Smart Schedule Feature
Tailwind's Smart Schedule posts your content at the optimal times when your audience is most active, increasing your visibility and engagement.
"This site makes everything so easy. It even picks the best times for you to post on your Instagram feed. What also is great is that you can see a snapshot of all your latest posts as well as the ones you have queued to post in the future so you can change things around to make your feed look its best!"

– Alexandra Christensen shared his first impression with Tailwind
9. Tailwind is easy to learn
Tailwind's interface is so straightforward that it takes less than 10 minutes to get the ball rolling for your social media plans. It ensures you spend less time learning how to use the tool and more time on strategic planning.
That's one more thing that our users agree with us, like this review from Titus, Bizwaremagic:
"The Tailwind interface is very easy to use and fast."
10. Email marketing and Ecommerce advertising are built right in.
Get more traffic with ads. Then nurture those leads to become repeat customers. Tailwind has email and ecommerce advertising built in. You don't need to buy or learn to use additional tools because Tailwind handles these critical marketing tasks.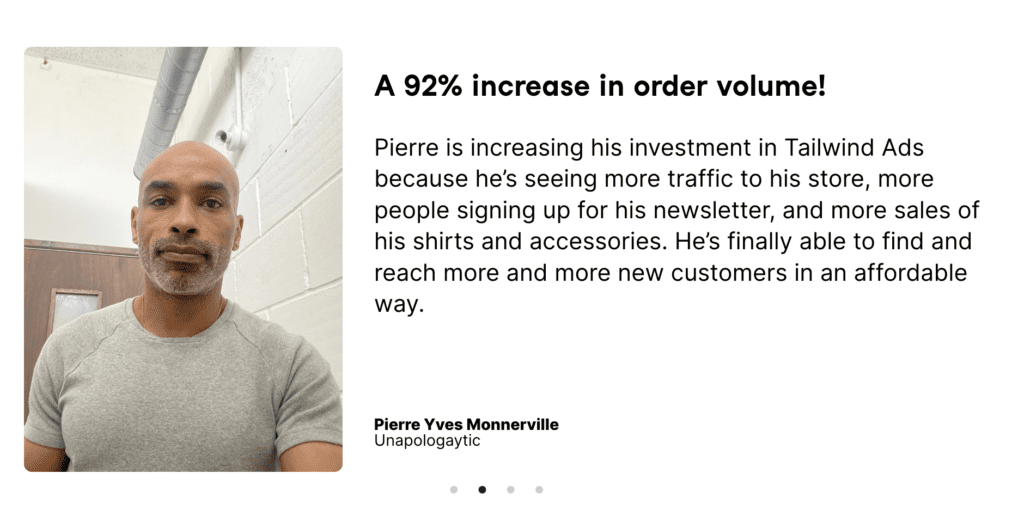 Tailwind is easy to use, yet it's packed with essential features to help unlock efficient and effective social media marketing. From creating stunning visuals to scheduling content across multiple channels, it offers the perfect mix of features to help you better manage your social media marketing with less effort.
Forget the hustle of managing multiple tools for social media management and start using Tailwind to take your social media marketing to the next level. Maximizing reach and engagement couldn't get easier than this!