Online ecommerce sales are expected to reach heights of US$7 trillion by year 2025. However, that bullish growth won't come easy.
Ecommerce businesses will be fighting tooth and nail with others to attract the oncoming swell of new customers. And with increased competition, market saturation, and diminishing returns on ad spend, ecommerce business owners need to leverage various platforms to help them hit their growth targets.
One platform that plays a pivotal role in the growth of the ecommerce sector is Facebook. And with almost 3 billion active users as of 2022 (and growing), it's easy to understand why.
Understanding the Basics of Facebook Ads
Facebook offers targeted advertising options that enable ecommerce businesses to reach audiences across demographics, locations, and interests.
Advertisers in the United States are expected to spend as much as US$200 billion on Facebook ads by 2026, with the social media platform expected to account for 10% of global ad revenue.
Here are three reasons why Facebook advertising and ecommerce are a perfect match:
Data quality. Facebook offers a treasure trove of high-quality user data that businesses can harness to tap into new markets.
Audience scale. The platform's 3 billion active monthly users has the scale to take your ecommerce business to the next level.
Competitive prices. While Facebook advertising prices have been increasing, it remains relatively more cost-effective than other ad platforms. This allows you to maximize your ROI from your Facebook ad campaigns.
However, doing Facebook campaigns the right way in 2023 takes time and effort. Not to worry, though — we'll show you exactly how to develop a successful Facebook ad campaign in the following sections.
Setting Up Your Ecommerce Facebook Ads
While Facebook allows ecom operators to reach new audiences, their system can be a bit daunting at first. Here's how to choose the right settings:
Create a Facebook Ads Manager account.
Click "Create New Ad".
Install Meta Pixel (Facebook Pixel) on your website. Meta Pixel is a tracking code that tells you how your ads are performing, as well as what audiences and elements of your ads converted.
Choose your Facebook ad goals. The ultimate goal for many ecommerce businesses is to make a sale. However, you can set other goals such as reach, website traffic, engagement, video views, and store traffic depending on your own objectives.
Choose your target audience. This is where you need to focus on the granularities of your desired audience. This can include location, demographics, age, career information, education, and financial status, among others. This is also where you can create custom and lookalike audiences (more on this later).
Set your budgets. Determine your daily budgets that your Facebook ad account won't exceed to stick with your forecast.
Add visual elements and ad copy. Upload your images and combine them with engaging, emotionally-investing ad copy.
Track your ad's performance. Are your ads converting? Are your ads engaging your target audience? If not, try tweaking your ad copy, visuals, and audience details until you get the desired results.
Choosing the Right Keywords for Your Ecommerce Facebook Ads
(In this context, we are referring to keywords that would be used in your copy — not the usual SEO-related keywords that we all think of)
There are more paid tools to find keywords than you can shake a stick at. However, you can just as much use Facebook Ads Manager to perform your keyword research. The "Audiences" section allows you to do this without having to create an ad. You can also access this area during ad set up under "Detailed Targeting" while creating ads.
In this area, you will find suggested keywords and the available categories for browsing, where you can find keywords related to behaviors, interests, and job titles, among others.
Using audience targeting data, you will be able to identify the granular details. This includes their life events, hobbies, and interests, which is invaluable data for ecommerce businesses.
For instance, if you're selling cruelty-free vegan cosmetics, you can narrow down your audience to actual vegans and individuals interested in animal rights.
You can find keywords using the following tools on the Facebook Ads dashboard:
Audience Insights
Suggested Keywords
Facebook Insights
Designing Effective Ecommerce Facebook Ads
The best Facebook ads for ecommerce universally share the following characteristics:
They make an emotional connection and engage customers
They provide a solution to a customer's problem
However, the battle for your target audience's attention is stiff. With competing content and advertising on other platforms all vying for attention, it's a tall task for ecommerce brands to cut through all the noise.
That's where effective content comes in: ecommerce brands need to ensure their ad creative commands attention and resonates with audiences to expand your brand's profile and get them to act.
Guidelines for creating engaging Facebook ads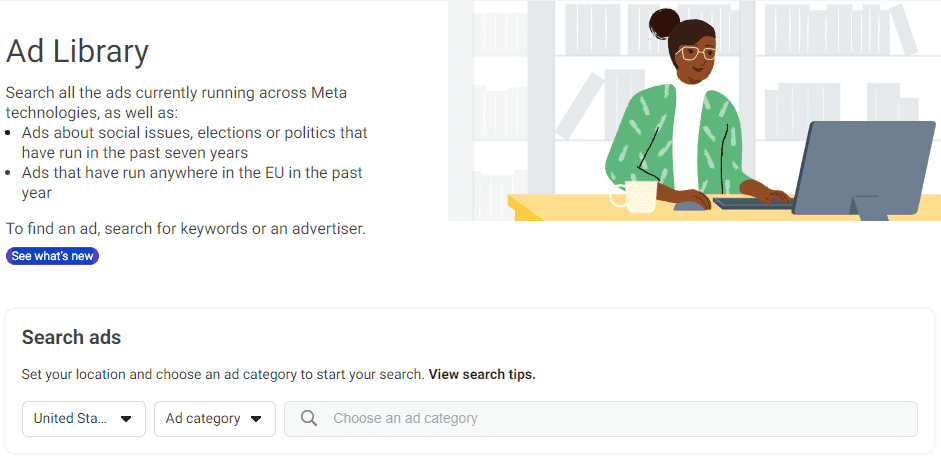 Refer to Facebook Ads Library to figure out Facebook ads that work for your competitors.
Always use high-quality, high-resolution images and videos in your Facebook ads.
Choose eye-catching, colorful, and vivid images.
Refrain from using images using Facebook's color scheme (white and blue), which may prevent users from noticing your Facebook ads.
Generally, Facebook dynamic ads, carousel ads, and collection ads with images of women and happy individuals tend to perform better.
Choose images and videos that are the right sizes for the ad types you wish to use.
Use videos that clearly demonstrate how your product can be used to benefit your audiences.
Consider using video testimonials of happy customers giving your products good reviews.
Check your landing pages and ensure that the traffic you generate on Facebook funnels to the relevant pages.
Use subtitles to cater to all users.
Make clear calls-to-action (CTAs) and direct customers to the next step in the sales funnel.
For video ads, make it a point to deliver the CTA within a maximum of 30 seconds for optimal conversion rates.
Creating a converting Facebook ad is a whole science, but these tips will get you started!
Steps to craft compelling ad copy with strong calls-to-action (CTAs)
Since Facebook users tend to scroll through their feeds in rapid succession, it's important to use not just images and videos that pop — it's also important to use concise, clear, and compelling ad copy and CTAs.
Facebook ad copy follows the "20% rule," which means Facebook ads work best when text takes no more than 20% of the advertisement's total area. Facebook used to reject ads that didn't follow the rule. And while it's no longer enforced, it remains one of the best practices for effective ecommerce Facebook ads.
Images and videos play a large role in engagement. But adding strong calls-to-action and persuasive verbiage can make your ads even more efficient. Facebook provides an ad copy cheat sheet you can use as a guideline.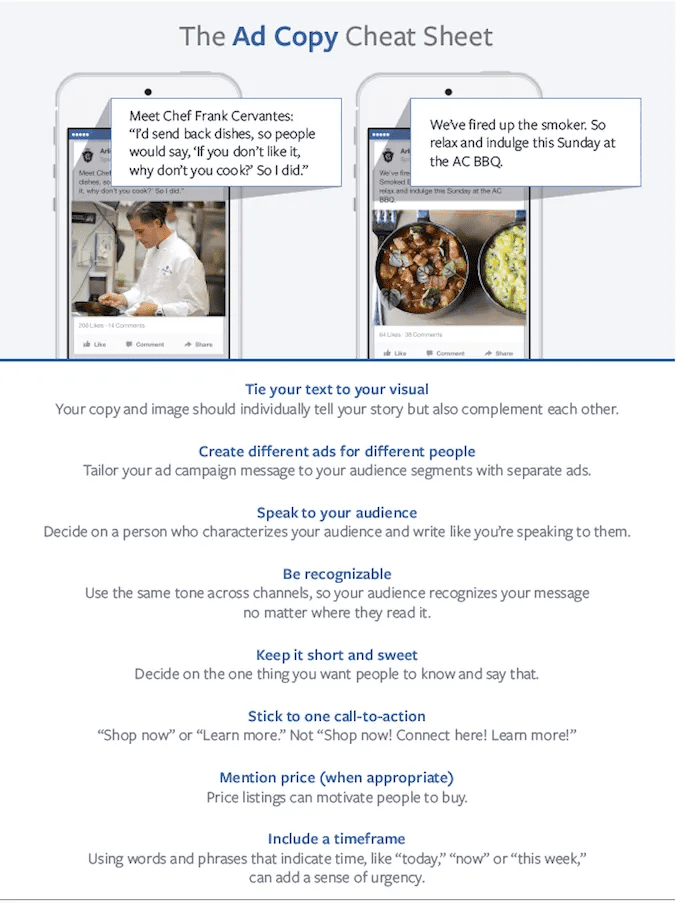 Testing and Optimizing Your Ecommerce Facebook Ads
A/B testing allows you to compare which ecommerce ads or advertising strategies perform the best. It allows you to compare two different versions of an advertising strategy by tweaking variables like images, videos, text placement, or target demographics.
Facebook shows each ad set variant to one of your target audiences, ensuring none of your audiences see the same ad twice. It then shows which version performs better.
You can perform all your A/B testing needs straight from Meta Ads Manager. Meta recommends that you use the same budget for your split testing in order to get the most accurate comparison and give you a fair cost per result/cost per conversion reading.
From this point forward, you can tweak and optimize your ecommerce Facebook ads based on the results. Refrain from manual A/B testing by switching ad sets and ad campaigns on and off, since they will likely produce inaccurate results and display your Facebook ads to overlapping audiences.
Want to optimize your ecommerce Facebook ad campaigns? Let Facebook do the hard work for you. All it takes is to determine your target audience and your business objectives and let Meta's suite of ad optimization tools efficiently use your ad spend to find your audience and generate the results you desire.
Here are 5 tips to help get the most out of your ecommerce advertising campaigns, straight from Meta:
1. Install Meta Pixel
Meta Pixel is a snippet of code that you deploy on your website to see how well your ads perform and how your users react. For instance, it tracks your customers' actions such as clicking through links, visiting pages, or adding items to their cart after seeing your ecommerce ads on Facebook or Instagram. All of these characteristics can also help you retarget your ads in the future.
2. Choose suitable campaign objectives
What do you plan to achieve with your Facebook ad campaigns? Facebook covers the most common types of business goals such as driving organic traffic to your online store, getting people to sign up for your email list, or boosting awareness about your products and services.
3. Set audience targeting rules
Facebook enables you to create highly-targeted campaigns using Custom Audiences to engage with existing customers or leads that have engaged with your ecommerce business in the past. Audience Insights, meanwhile, allows you to discover the audiences that engage with your business the most. Lookalike Audiences, on the other hand, helps you reach new leads that share the most similar characteristics as your most loyal customers.
4. Optimize your ads to attain business goals instead of mere clicks
Choose ad delivery optimization strategies suited to your business goals, such as sales, landing page views, or email list signups.
5. Opt for flexibility with ad delivery
Facebook enables you to choose automatic ad placements, which places your ads based on where you're most likely to achieve your goals and where your ads will perform the best. The more options you allow the platform to deliver your ads, the better your ecommerce Facebook ads will perform.
Advanced Strategies for Ecommerce Facebook Ads
In closing, let's go over some of the more advanced advertising strategies with Facebook ads for ecommerce.
Dynamic product ads
Dynamic product ads use data about products users have previously shown interest in to show more personalized, targeted content.
These ads are usually created and tailored automatically based on users' online behavior. For instance, users that have viewed a particular piece of clothing may then see a dynamic product ad showing similar clothing items.
Dynamic product ads can be highly effective engagement tools for audiences that have shown prior interest in a particular product, helping boost sales and conversion rates on the whole.
Leveraging custom audiences and lookalike audiences
As mentioned earlier, custom audiences and lookalike audiences are lists of similar customers in your neighborhood, your country, economic zones, in-app store countries, or in other global locations.
Facebook's lookalike audience uses previous custom audiences as its source. It then leverages data from demographics, past behaviors, and interests from the source audience to find leads that share the same characteristics.
Facebook then delivers your ad to these "lookalike audiences" which tend to convert at a higher rate because of the same qualities they share with your existing customers.
Integrating Facebook Ads with other digital marketing channels/strategies
Lastly, let's take a look at digital marketing channels that ecommerce businesses can integrate with Facebook ads to create a full-spectrum, effective Facebook advertising strategy:
Email marketing. Email marketing is already an extremely potent digital marketing vertical as it is. When combined with Facebook ads, it gets even better. Ecommerce businesses can create highly-personalized and targeted ad campaigns even more efficiently. For instance, ecommerce brands can leverage a custom audience on Facebook using their email list, allowing them to engage their existing email audiences on Facebook itself.
Content marketing. Content marketing involves the creation of content designed to attract and engage audiences. Through creating value-added, relevant, and high-quality content and promoting it on Facebook ads, ecommerce businesses can build greater brand awareness and reach broader audiences.
Social media marketing. Social media is a potent vertical for ecommerce advertising. For instance, by combining social media marketing techniques with Facebook ads, ecommerce businesses can amplify their reach, traffic, and engagement on various social media platforms.
Influencer marketing. Influencer marketing is the practice of teaming up with social media users with massive followings to promote your brand, products, and services. Ecommerce brands can leverage Facebook ads targeting the audiences of influencers to reach engaged audiences and raise awareness about their products and services.