Feeling stuck on how to write an Instagram bio? It happens to the best of us. After all, those 150 characters can make or break the growth of your audience!
Your Instagram bio is the first thing people notice when they go to your profile. It's also where you introduce your brand to potential customers, create personal connections, and (hopefully) drive a considerable amount of traffic to your business.
Whew! That's a lot of pressure for a few lines of text! But don't worry, we're here to help you assemble the perfect Instagram bio for your brand.
In this post, we'll look at how to:
Write a creative bio on Instagram
Describe what your business does
Give customers a reason to follow, like, share — and convert!
We will also look at our favorite secret weapon, Smart.bio, and how it can make your profile pop!
What is an Instagram Bio?
Your Instagram bio is the section on your profile page where you include a brief description about yourself, your business, your brand, and/or the purpose of your Instagram account. Your bio is found beneath your Instagram profile name.
Your Instagram bio helps people engage with your profile, and within your Instagram bio, there are countless ways to get creative.
Here's what a bio should include:
a short description
emojis
a website URL
One thing is for certain: for the best Instagram profile possible, you'll need to keep your bio short and sweet in order to stay under the bio's 150-character limit.
But don't worry — Instagram bios aren't set in stone. If you like some of our Instagram bio ideas, you can tweak your bio!
Our Formula: How to Write an Instagram Bio in 6 Steps
An Instagram bio is what people see first when they visit your page, so it needs to stand out!
You have just seconds to leave a great impression and convince someone to follow you.
Check out the six steps from our Instagram bio tips for making a great first impression!
How to Make an Instagram Bio: The Tailwind Edition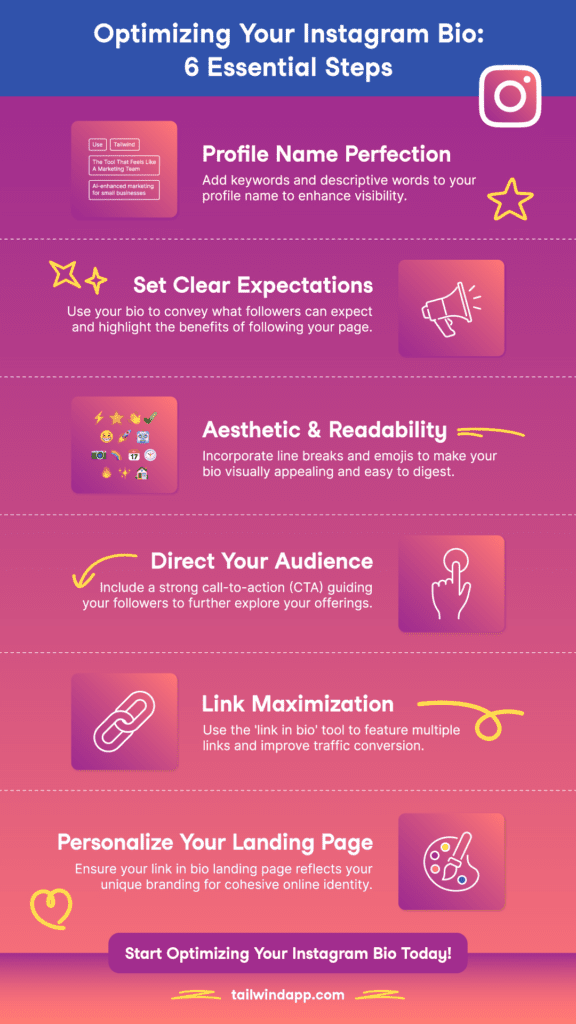 Think of your Instagram bio as a short and sweet cover letter.
Here's are our best ideas to make your Instagram bio a killer success:
1. Add keywords and descriptive words to your profile name
You know how the saying goes. What's in a name?
The opportunity to brand your Instagram bio even more, that's what!
Technically, you have two names on Instagram that hang above your Instagram bio. One is your Instagram handle, which you choose when you sign up for Instagram and have to change in your Settings. The other is your Instagram profile name!
Check out where the two appear on travel blogger Helen Sula's Instagram page below, where "heleneinbetween" is the handle.
Your profile name shows up in bold right above your Instagram bio, just like a little heading. If you wanted to, you could just put your company or brand name in this line. However, you might be missing out on a few extra opportunities to brand your profile and attract more followers if you stop there!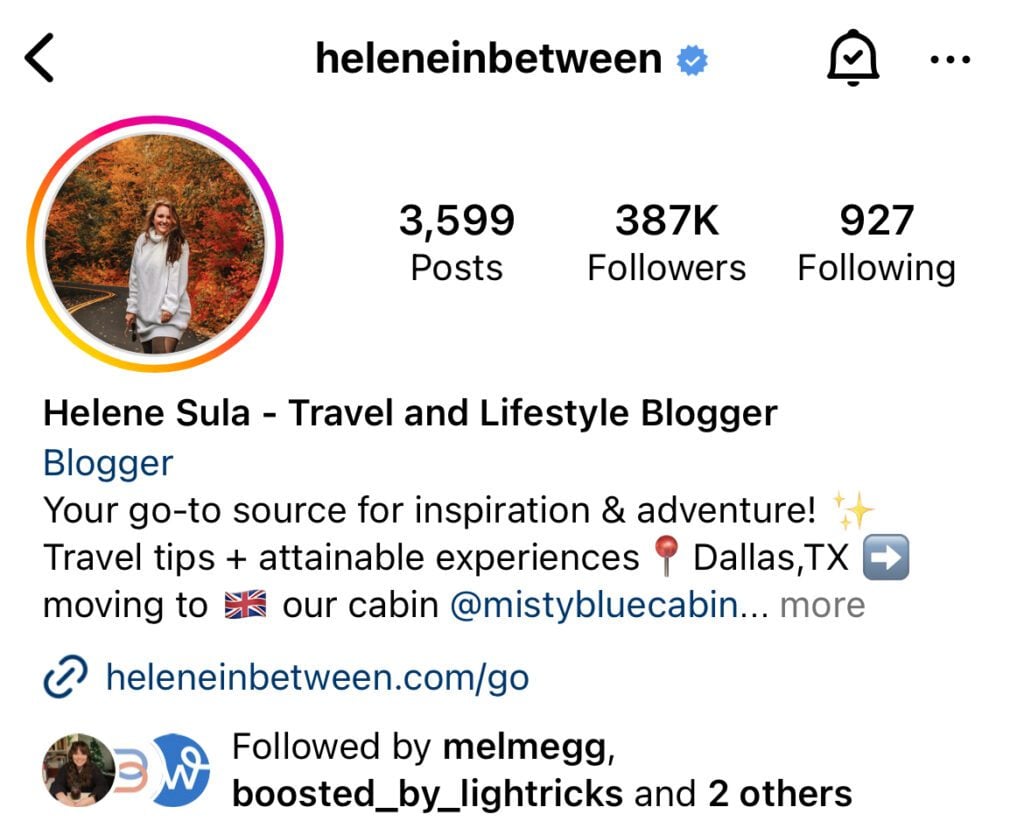 You have 30 available characters in this line (including emojis!), and it's a great place to describe what you do, who you are, or what you're all about. Including relevant keywords and descriptive words in your Instagram bio makes it so much easier for your audience to find you. For example, if you're a hairstylist, adding your profession, "hairstylist", and the city you're located in your profile name makes it super easy for people looking for a hairstylist in your city to find your Instagram account.
2. Use your bio to quickly convey what followers can expect from your page and what's in it for them
Did we mention that your Instagram bio has a character limit? Don't waste this valuable real estate on unnecessary details. For example, there's no need to restate your name here; instead, focus on providing any details that you didn't get across in your profile picture and name line!
The Instagram bio is the perfect place to highlight significant details about who you are, what you do, and how you use your Instagram profile in an attention-grabbing way. Your bio is usually the last thing people read before making a decision to follow you OR click on the link in your bio!
Here are a few Instagram bio ideas to get users interested in your profile:
Your job title and/or the company you work for, if not mentioned in your profile name
Any awards or things you're "known for"
Hobbies or your brand's core services/specialties
Contact information (if relevant)
How often you provide new content to give your followers an idea of when to tune in
What type of content your followers can expect from your Instagram account
A CTA in your bio (keep reading to learn about adding multiple links from your bio)
To make the most out of your bio space, be sure to use different words (not the same ones as in your name line) to further describe your brand focus or blog content.
After you focus on the message you want to convey with your Instagram bio, you'll want to format it for easy readability and understanding. After all, you have just a few seconds to get the attention of a new follower or customer!
See our creative Instagram bio ideas and formatting tips below.
Should you use hashtags in your Instagram bio?
We get this question a lot. Using a hashtag in your Instagram bio depends on what you want to portray within the summary of what your Instagram profile is about. You can add hashtags and mentions to your Instagram bio to create a clickable hyperlink.
However, hashtags in your Instagram bio don't guarantee that your profile will automatically appear in that search stream. If you include a hashtag in your Instagram bio, users will be able to click on that hashtag and see all of the posts using that hashtag — not just yours.
If you've created a hashtag specifically for your community or business, it's a great idea to include it in your Instagram bio so your Instagram followers (and profile visitors) can see it — and it's also a great spot to collect user-generated content!
Adding a user mention works the same way in your Instagram bio (by creating a clickable hyperlink) and is a great way to introduce the face or faces behind your brand. Linking your personal Instagram handle idea is a great Instagram bio idea — it's a little clue for curious browsers!
3. Use line breaks and emojis to make your bio look neat and easy to read!
Nothing turns off readers faster than a thick wall of text. A block of words might just make your followers' eyes (and brains!) tired before they even begin. Good Instagram bios include line breaks and slashes.
Lettering artist Dawn Nicole does this really well in her Instagram bio: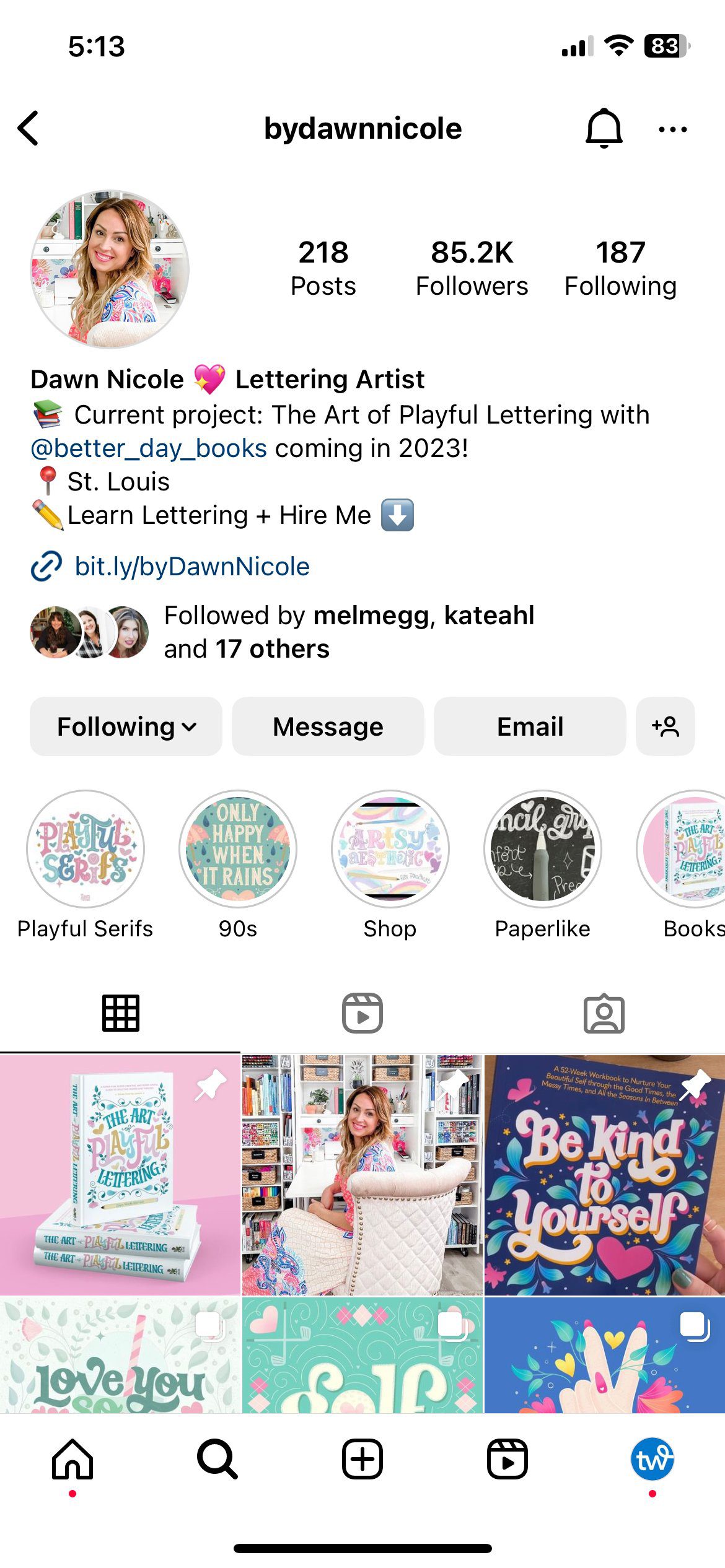 When you type your Instagram bio, make sure to remove any spaces before and after each sentence that you want to put a line break around. Then hit return. (If you're on an Apple device, tap the number button in the lower-left corner of your keyboard to find your return button!) This will move the next sentence down to its own line.
You can create full line breaks in between each sentence by adding emojis, slashes or periods.
For a more creative bio, try switching out some words and phrases with relevant emojis to spark visual interest and create a refreshing reset for your viewer's eyes!
4. Include a strong call-to-action (CTA) to send your followers somewhere to learn even more about you!
The next element of a perfectly branded Instagram bio is an important one! It's the next step your followers or visitors should take to learn even more about your product, blog, or brand.
Most often, this would be going to your website or another location to view more of your content. That's why it's so handy to include a link in your bio by adding a relevant URL.
Here's how to add a link to your Instagram bio:
Step 1: Log in to Instagram
Step 2: Click on your profile photo in the bottom right corner (this brings you to your profile)
Step 3: Press Edit Profile
Step 4: In the space next to Website, enter your URL
Step 5: Hit Done
5. Use a "link in bio" tool to showcase more than one link for ultimate traffic conversion
While you can put a link in your bio directly to your website URL, this isn't always the best idea, especially if you want to direct followers to a certain page or promotion. Instead, many Instagram users choose a "link in bio" tool that acts as a landing page for multiple links, including links shared with each post!
Tailwind's FREE Smart.bio tool does just that! In a matter of moments, you can create a clean, branded link in your bio (it looks like this: smart.bio/yourusernamehere) so that your followers enjoy a branded experience from start to finish.
When choosing a "link in bio" tool, it's important to choose one that doesn't create a distracting, lengthy link in your bio. Even better, a "link in bio" tool that allows you to create your own custom URL can keep your Instagram bio effortlessly branded!
Take a peek at Smart.bio below!
Elevate your bio game with Smart.bio, and watch your Instagram presence soar. Get started now!
With Smart.bio, you can also upload a mix of static link buttons and clickable feed images to optimize the posts, links, and offers you'll always want to send your followers to. Here are some creative bio ideas to try in your Smart.bio: links to newsletters, email lists, guides, links to special offers, blog posts or other places to connect with you—like TikTok or Pinterest.
PRO TIP: When you use Smart.bio with Tailwind for Instagram, your linked feed images will update in real-time on your Smart.bio landing page — even when you auto post!
No more having to go into another app to separately add in a link and coordinate the time it goes live with the time your post does —Tailwind does it for you automatically when you schedule your Instagram post!
Plus, Smart.bio is easy to brand, which makes it easier to design a creative Instagram bio that reflects well on your brand.
6. Customize your link in bio landing page to reflect your branding
Smart.bio by Tailwind is completely brandable, which is a feature either unavailable on most links in bio tools, or only available through a paid subscription!
With Smart.bio you can customize:
Your page title, so you can brand the headline that appears next to your profile photo
Your button colors to perfectly match your brand colors
The CTA buttons that appear under each of your Instagram feed posts so your audience knows what to do next with uniquely-you instructions
Your static link headers, including with emojis!
Plus, Smart.bio allows you to see analytics in real-time, including total visits to your landing page, total link clicks, and the click-through rate of your content!
Using this information, you're able to figure out if your Instagram bio is clear enough to lead followers to your link in bio tool or if you should adjust your CTAs!
These analytics also help you determine if your buttons are interesting and engaging enough to earn clicks, or if you should change your approach to get the most traffic possible.
Smart.bio allows you to meet your brand goals when it comes to your Instagram presence. Using it will transform your good Instagram bio into a great one. And, it's free.
Instagram Bio Examples: 220+ of the Best Instagram Bio Ideas You Can Copy + Paste
Now that you have an idea of what goes into crafting the best bio for Instagram, it's time to write a clever bio of your own!
Here are some Instagram bio examples to get you started. You can use these bios for inspiration, or simply copy and paste them! We don't mind.
Quick Links:
Good Instagram Bios
Creating a life, I love
Simplicity is the key to happiness
In a world of worriers, be a warrior
Captivated from life, showing it here
We have tomorrows for a reason
I practice what I post
She turned her can't into cans and her dreams into plans
Creating my own sunshine
Your life does not get better by chance. It gets better with a change
You is kind, you is smart, you is important
Funny Instagram Bios
Sassy, classy with a touch of badassy
Recovering ice cream addict
Humble with just a hint of Kanye
Relationship status: Netflix and ice cream
Words cannot express my passion and love for Fridays
Chocolate never asks me any questions, chocolate understands me.
Kanye attitude with Drake feelings.
Sometimes I just want to give it all up and become a handsome billionaire.
Gifted napper, talker, and ice cream eater.
I might look like I'm doing nothing, but in my head, I'm quite busy.
My hobbies are breakfast, lunch, and dinner, topped with a chocolate dessert.
Cute Instagram Bios
Recommended by 4 out of 5 people who recommend things.
Sprinkling kindness everywhere I go
Trying to be a rainbow in someone's cloud.
Fabulous ends in "us" coincidence? I think not.
Sometimes we could always use a little magic – don't hide the magic within you.
Always aiming to be a rainbow at the end of a thunderstorm.
Fair is where you get cotton candy.
Just keep swimming.
Sharing my happy thoughts.
You keep me safe. I'll keep you wild.
Cool Instagram Bios
Being myself – Everyone else is taken.
Time is precious, waste it wisely.
I'm a cupcake in search for her stud muffin
Do you know what I like about people? Their dogs.
The best things come from living outside of your comfort zone.
The bad news is time flies. The good news is you're the pilot.
No, this isn't a dream. This is my reality.
I already want to take a nap tomorrow.
If I cannot do great things, I can do small things in a great way.
When nothing goes right…. swipe!
​Lifting spirits and lowering footprints.♻️
Best Instagram Bios with Emojis
Welcome. I'm glad you're here.
(the city you live in or are visiting)
Enjoying life's party
Check out the latest deals
Awarded most likely to succeed in 8th grade
Parent to (dog's name)
(Selfie Queen)
(Put where you're traveling to next)
(Zodiac sign)
(Add emojis of your favorite things)
Business Instagram Bios
FLASH SALE THIS WEEKEND ONLY – 50%
A creative message describing your unique selling point.
Check out our best sellers below.
Official home of (brand name) on Instagram.
Click the link below to shop on our Instagram.
Free international shipping.
Share your photos with us using # (branded hashtag).
Your brand slogan.
Contact us: (email address).
We see your purchases! Tag us @(yourInstagramname), #(your hashtag)
Instagram Bio Quotes
Simplicity is the key to happiness.
In a world of darkness, look up at the stars
All I do is win, win, win. No matter what.
To love oneself is the beginning of a life-long romance.
I would rather die of passion than of boredom.
In a world where you can have everything. Be a giver first.
Whether you think you can or you think you can't, you're right.
Together we could be unstoppable
Wanting to be someone else is a waste of who you are
Creativity solves everything.
Create beautiful moments and make your space a masterpiece.
Instagram Bio Ideas for Girls
Turning my dreams into my vision and my vision into reality.
Sand in my toes and saltwater in my curls.
My standards are high… just like my heels.
I'm a woman with ambition and a heart of gold
Sometimes depressed, stressed…, but still well dressed.
I shine from within so no one can dim my light
Happiness never goes out of style
Smart. Strong. Silly. Straight up class act.
Who runs the world? ME.
Always give 100% — unless you're donating blood.
Created with you and all the girls in mind🕊
Mom Instagram Bio Ideas
Mother of dragons, among other things.
I don't regret being a working mother when I can show others that I can fulfill my dreams, and so does my children.
I cannot settle for just anything. My kids are watching!
Mama to (insert kids names)
No influence is as powerful as a mother.
I have the best job in the world, I'm a mom.
Nurturing, supporting, and helping my children grow.
Who runs the world? Moms.
Being a mom doesn't mean you're superwoman. It just means you're more powerful than you ever thought possible.
Probably drinking coffee because I'm a mom.
Inspiring people to cook, eat & live well.
Fashion Instagram Bios
How you can live the high life if you don't wear high heels.
Fashion is about comfort and feeling good.
Happiness looks beautiful on you.
Style shows your attitude.
We can feel and see everything in clothes.
We can express our feelings through our clothes.
Never over or under dressed, just dressed.
We all have style; we only have to find it.
Style is nothing but what we choose.
Dress-up is still my favorite past time.
Instagram Bio Ideas for Guys
Born to express, not impress.
I got here by being me, so I'll continue being me.
You couldn't handle me even if I came with instructions.
Kilometers are shorter than miles. To save gas I'll take my next trip in kilometers.
I'm out here hustlin' to claim what's mine.
I'd rather be hated for who I am than loved for who I am not
I don't care what people think of me. This is me in the rawest form.
Risk taker. Adventurer. Globetrotter. Living my dreams.
Be all in or get out. There is no in-between.
I might not be where I want to be yet but I get closer every day.
Entrepreneur Instagram Bios
If you don't build your dream, someone will hire you to build theirs.
If opportunity doesn't knock, build a door.
The road to success is always under construction.
The happiest people make the best out of anything.
A goal is a dream with a deadline.
Not stopping until I achieve my dreams.
My goal is to not only live, but to grow.
Love what you do.
What is the point of life without passion?
Whatever you do, just make a difference.
Clever Instagram Bios
I'm real and I hope some of my followers are too.
If "love is in the air" why is the air so polluted?
Sweet as sugar, tough as nails.
Catch flights not feelings.
Midnight snacker
I can't remember who I stole my bio from or why.
Currently saying yes to new adventures
Everyone else was taken so this is me
I'm cool, but global warming made me HOT
People call me Sara but you can call me tonight
Dope Instagram Bios
Simply look at me. God is amazingly creative.
Stress does not go with my outfit!
I speak fluent sarcasm!
Don't dm. Telepathy only!
Lazy is such an ugly word, I prefer SELECTIVE PARTICIPATION!
Remember it's just a bad day, not a bad life.
Life on earth is expensive, but it includes a free trip around the sun.
I'm not actually online, it's just an optical illusion.
Work hard for 5 days to enjoy the 2 days to the fullest.
I hope Karma slaps you in the face right before I do!
Unique Instagram Bios
Falling for you
Looking at the world through colored glasses.
Please cancel my subscription to your issues
Status Update: Currently hungry.
Don't study me. You won't graduate
A Life? Cool! Where can I download one of those?
To a great mind. Nothing is little.
Who needs friends? My PC is user friendly.
Beware of geeks bearing formulas.
Weird is a side-effect of awesome.
Work out, but make it cute✨
Aesthetic Instagram Bios
Kind words cost nothing.
Look in the mirror and see your competitor.
Simple hug and cure big issues of life.
Sometimes, the fear of losing someone is making us losing them
Sorry for taking the same boring face every day.
You have ruined the melody of my favorite song.
I am the hero of this story, do not save me.
Stay busy, they do not deserve you.
Firstly, try to learn to make yourself happy.
I am getting a chance to tell my feelings to you.
Professional Instagram Bios
Press that follow button to know my story.
Don't know what to do? You can start by hitting that follow button.
Turn that blue follow button to white.
Follow me and I'll follow back.
Follow me to get a behind the scenes look at my life
Wanna know my story? Press that follow button.
Follow me then follow the link below!
My story will inspire you so be sure to hit that follow button.
I'm on my journey. Join me by following along.
You see, everyone has a story but mine is a mystery. Follow me.
Classy Instagram Bios
Not everyone has to like me, Not everyone has taste.
People will stare; I make it worth their while.
In a world of average, I'm savage.
Even if you had instructions, you still couldn't handle me
Keep the dream alive: Hit the snooze button.
You can't make everybody happy, you aren't a jar of Nutella.
Don't be afraid to be the full package.
At the end of the day, life should certainly ask us whether we want to save the changes or not.
I am fire and ice. People fear my cold and crave my warmth.
Better an oops than considering a what if.
Simple Bios for Instagram
Welcome to my world.
This is me.
Just smiles
I got nothing.
Meet (name).
Follow me.
So far, so good.
Thanks for checking in!
Happy stalking!
Happy thoughts
Using Smart.bio to make the most out of your Instagram bio
Driving traffic from Instagram is easier than ever, thanks to Tailwind's FREE Smart.bio tool!
Smart.bio allows you to feature as many links as you like on a clean, stylish landing page.
Your followers can click on the branded link in your bio to see all the products, posts and content linked to your Instagram posts.
Of all the things to put in your bio, a powerful "link in bio" tool like Smart.bio is a must!
Besides being able to add multiple links, Smart.bio allows you to track how many people click the links. That way you can analyze what your followers are drawn to most, and leverage it!
Once you have everything set on your bio, you can use Tailwind's Instagram Scheduler feature to automatically schedule your post links and update the Smart.bio page once your Instagram post goes live!
Curious? Get a free trial of Tailwind for Instagram no credit card required!
Pin Me For Later :