How's your web traffic right now? Are you in serious need of a boost?
It's the dream: A massive surge of clicks to your site or shop increasing not just your page views, but your subscribers and sales as well. Maybe that also includes an increase in ad revenue or affiliate commission.
Listen, in just a few steps your dream of more traffic can become your reality with Pinterest. Yes, you read that right. Pinterest can be a major source of traffic for you IF you create seasonal content.
Plus, with the retirement of Idea Pins, Pinterest is finally going back to how it used to be. So, right now is the best time for you to get started with Pinterest Marketing or to refresh your strategy.
After 6+ years on the platform, that's one thing I can count on — even bet on — happening: that seasonal and holiday content will 3x, if not 5x my traffic. This is especially true during the fourth quarter of the year that's stacked with seasonal shifts and holiday after holiday.
Let's do a quick rundown of major dates you need to capitalize on:
Back to School: Mid-August to September
Halloween: October 31st
Thanksgiving: November 23rd
Black Friday: November 24th
Christmas: December 25th
New Year: January 1st
And those are just the big ones. There are also so many seasonal trends for Fall and Winter. Don't wait, or you'll miss out on these opportunities to boost your traffic. For a full list of all holidays and seasonal dates, click here to get my FREE 24-Page Seasonal Pinterest Planner, or set up a customized marketing plan in Tailwind Copilot.
If you use this simple method for creating seasonal content, your summer slumps will always be followed by seasonal spikes! It's so easy and gets easier every year you implement this strategy.
Why? Pinterest is a search engine, and your pins have no real expiration date. If you add your content or creations to Pinterest now, they'll continue to be found and clicked on for years to come. You're investing in traffic for this year, but also for years to come.
Some of my best seasonal and holiday content was saved to Pinterest years ago, yet like clockwork, once that season is in sight, those pins drive traffic to my site. That traffic translates into more email subscribers, more sales of my digital products, and more ad income.
Let's get started. This is how to 3x your traffic with seasonal or holiday content on Pinterest. You can use this strategy any time of the year, but you will have the best results in Q4 during the holiday corridor of September to December.
#1. Find High-Traffic Keywords
Did you know that the majority of keywords are seasonal? Meaning that there is a particular time of year when interest in that keyword spikes. Even the most evergreen-sounding keywords also have seasonal spikes, including saving money, starting a business, or getting healthy.
The key element to this strategy to 3x your traffic with Pinterest is to know exactly when relevant keywords to your audience spike, and then create the content and share it on Pinterest to meet that interest.
Don't worry, you do not need to guess or pay for expensive keyword tools to find seasonal trends. You can use one or all of the following trend tools:
A. Pinterest Trends: Accessible to any Pinterest business account, Pinterest Trends enables you to "understand the trends your audience is searching." You can use it to "discover trends based on interests, demographics, season." Plus, easily search by growing trends or seasonal trends.
B. Google Trends: As not all keyword data is accessible within Pinterest Trends, Google Trends is an alternative trend tool that offers similar search data, but for Google. This data is still helpful, as oftentimes searches in Pinterest mirror those in Google. Test it out for yourself and see.
Open up either of these tools and start searching for keywords relating to your audience's wants and needs. Think about how you can add a seasonal or holiday spin to them. Don't forget to select the location that matches your audience. If most of your traffic comes from the United States, then select that location.
For example, if you're in the financial niche, instead of general money-saving tips, think "saving for summer vacation," or "holiday parties on a budget."
Another example is if you're an online business coach. Rather than creating generic business advice, focus on offering advice for Black Friday specials or holiday specials.
C. Okay, one more. If you're in the DIY space, you could offer tutorials for Halloween crafts, Thanksgiving decorations, or even handmade Christmas gifts.
Use the provided trend graphs to pinpoint when exactly these keywords spike, then aim to have that seasonal or holiday content published and pinned to Pinterest 60-90 days prior. Timing is everything when it comes to Pinterest — waiting too late to share it could risk missing that traffic boost entirely.
Remember, 60-90 days ahead of time is key to success with this strategy.
Got your keywords? Great, now let's move on to the next step:
#2: Optimize Your Content and Creations
It's time to get your content or creations seasonally ready. Like hanging the Halloween decorations or putting up the tree, this needs to become part of your own seasonal traditions for your site or shop.
Shifting to a seasonal mindset requires you to either update your existing content or create something new. I recommend not overdoing it to start and instead focusing on creating a couple of pieces for each holiday or season. It might only mean a few new pieces this year, but you can build on it next year.
You can also use the Pinterest search bar to find even more keywords you can target with your content or use to optimize your existing content. Type in one search term, then click to see other related keywords.
A. Update Your Existing Content: Do you have any seasonal or holiday content already created that matches upcoming traffic spikes? Awesome! Now is the time to make any improvements or updates. Haven't taken images or videos for this content? Do that. Could you add an infographic and write a new paragraph? Go for it. The key here is to make your content better and more complete, making it more competitive.
B. Create A Seasonal / Holiday Edition: Do you have a popular product or piece of content that's generic? Consider releasing a holiday or seasonal edition. For example, do you have a popular printable? Release a Fall or Christmas version. Do you have a highly clicked-on blog post? Write a version focused on an upcoming season. This can boost your traffic because it's already proven content with the added urgency of it being seasonal.
C. Create New Content or Creation: Remember those keywords you found in step one? Create content or a new creation for this particular search term. Make it amazing, answering the real search intent of the term. Not sure how to make your content stand out? Check out ranking content for your chosen keyword in Pinterest and Google search results, then outdo it. Does the ranking post not have images? Great — you add images. No checklist or freebie? Sweet — create one.
Do you have one or two new seasonal pieces of content or creations? Awesome, let's move on to posting on Pinterest.
#3. Create and Share Multiple Pins
With your content ready to go, it's time to create pins: vertical and longer images or videos that link to your content on Pinterest.
Don't go through all this work of creating new seasonal and holiday content and then only share it on Pinterest once. Nope, you've got to share it at least five times leading up to the peak traffic date (the date when your keyword has the most traffic).
Also, long gone are the days on Pinterest when you would design one pin and save it half a million times to every group board or board on your profile. Do NOT repin, do NOT save the exact same pin over and over again.
Yes, you heard me right: No more repins; instead, create fresh pins! Fresh pins are brand-new images or videos that have never been saved to Pinterest before. (And please, update your Pin titles and descriptions too — more on this below).
Don't worry, that's not as much work as it sounds, as you can use Pin templates to speed up the pin creation process. (Or hey, use Tailwind Create!) With Pin Templates you can easily batch design multiple pins for your new content.
Design your pins and then schedule them out using Tailwind. If you're getting started 60-90 days before the peak date, you can schedule one pin to go out every 7-14 days, depending on how many pins you have.
If you designed 10, you can do a new pin every 7-8 days. If you designed 5, I would still stick with the weekly spacing and get them out as early as possible. But please do not save pins to the same link multiple times in one day. Give them space.
About Pin Titles and Descriptions
Fresh images and videos deserve fresh Pin Titles and Descriptions. You can reuse the bulk of your Pin Description that you've optimized for SEO. It's very easy for you to update the introduction of your Pin Description while keeping the standard body of your 500-character max Pin Description.
For example, maybe one pin opens with "Looking for ways to grow your business for the holidays?" + body of your Pin Description. Another pin could say "Ready to boost your holiday sales for your business?" These little remixes allow you to easily post fresh pins.
The same goes for your Pin Titles. Perhaps one says "Quick and easy winter recipes" and another says "15 minutes or less recipes for cold days."
Writing Pin Descriptions and Titles is not just about using your primary keyword phrase (that you found in Step #1), but also padding it with all those related keywords you found as well. Related keywords add context and help your pins to be discovered by related searches as well.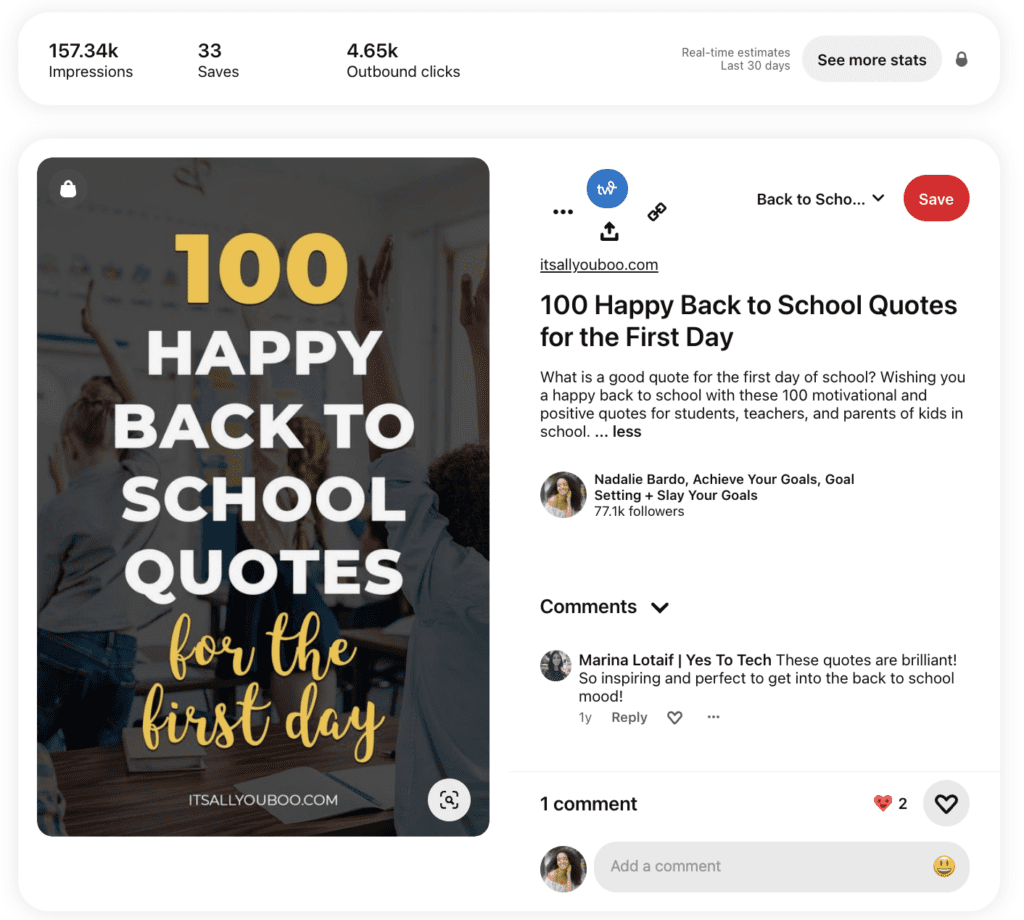 And let's not forget, we've got Tailwind Ghostwriter to help us write Pin Titles and Descriptions!
Ready to 3x Your Traffic with Seasonal Traffic?
With my over six years on Pinterest and blogging full-time, this has been the only strategy that is algorithm-proof. There have been so many changes to Pinterest over the years, yet this strategy has worked for me year after year.
I can literally bank on the boost in traffic, subscribers, and sales I will have in the fourth quarter of the year. And if you get started with it, you can too!
Need help getting started? You're invited to sign up for my FREE Pinterest Bootcamp for Bloggers and Content Creators. Sponsored by Tailwind, this LIVE event starts September 25th, 2023.
Plus, once you sign up you'll also get a special 20-Page Pinterest Blueprint to guide your seasonal and holiday creation.
(And no matter when you're reading this, I host my Pinterest Bootcamp every four months, so click and sign up right here, or get your FREE Seasonal Pinterest Planner).
You can 3x, or even 5x your traffic with seasonal content! Get started today.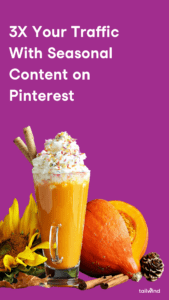 Author Bio:
Nadalie Bardo simply LOVES Pinterest. Achieving 1M views on Pinterest since her very first month for her personal development blog It's All You Boo, she's organically grown her email list to 20K subscribers and has sold 1000s of copies of her digital products and courses. As a Pinterest Coach, she's helped thousands of blogs, brands, and businesses like yours achieve their goals of more traffic, more subscribers, and more sales.