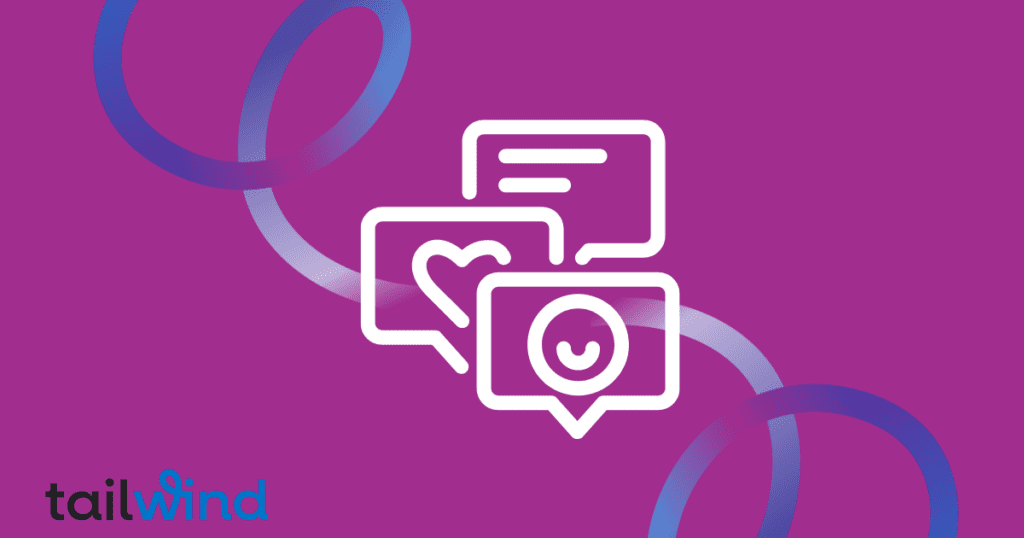 Artificial intelligence (AI) is disrupting every vertical — and nowhere is this more evident than in the world of content and social media marketing.
In fact, AI is already fast becoming an integral part of every content marketer's arsenal.
And, considering how social media has entrenched itself in our lives, it makes perfect sense for every business, regardless of size, to harness its virtual omnipresence as a critical part of their content creation and marketing strategy.
Here's the thing: millions of social media posts constantly being created, shared, and viewed by billions of social media audiences all over the world, so it's an uphill battle to rise above the constant noise and consistently create engaging content ideas to best reach your target audiences across the social media platforms they "live" in — whether it's Facebook, Twitter, Instagram, TikTok, or LinkedIn.
That's where artificial intelligence comes in.
With AI social media tools, content marketers can create social media posts and all sorts of long-form, short-form, visual, and multimedia content at an unprecedented scale. Doing so helps boost their productivity, drive greater engagement with their followers, and therefore achieve more conversions to boost revenues.
In this article we will discuss how AI tools will play a massive role in every company and content creator's social media strategy moving forward.
The Problem: Successful Social Media Marketing and Content Creation is Difficult
Every content creator is, in essence, a content marketer. Individuals who rely on content creation to earn a living are, by definition, content marketers.
The same can be said for influencers, large organizations, small-to-medium-sized enterprises, and literally any professional that relies on their social media presence to drum up business.
Whether they have the resources and manpower to hire an in-house team of social media marketers or run all their social media marketing campaigns by themselves, they are, by definition, content marketers. Everyone.
The broad spectrum of creative work that underpins today's dynamic business environment can be daunting for many small-to-medium-size enterprises, leading to the following challenges:
Running out of content ideas. Make no mistake about it, creating content can be difficult — especially when you're running out of content ideas to write about. Creativity can't be switched on and off like a faucet.
Poor search engine rankings. Sometimes, no matter how good your content and how airtight your content strategy might be, you still might get outranked by other competitors in the search engine results pages (SERPs).
Inconsistent content posting schedules. Consistency is key when it comes to posting on the internet or social media networks. But since creating high-quality content does come at a steep price — and not a lot of SMEs and content creators have an endless marketing budget to draw from — it might be hard to stick to a content creation schedule.
Low traffic/exposure. In some cases, you may be consistently publishing high-quality content for your social media accounts or blogs/websites, but the traffic is just not coming. It happens.
Poor conversion rates. Sometimes you might be able to drive online growth and traffic with great content but stumble with calls-to-action or conversion rates.
Practical Use Cases of AI for SME Content Marketers
Successful social media project management requires massive amounts of time, finances, and human capital — something that not all SMEs have the bandwidth for.
It's perfectly normal for digital marketers, for instance, to spend days planning, scheduling, producing, and posting content across a variety of internet and top social media platforms. That's not to mention running analytics, managing paid social media ads, and generating reports.
Instead of using your valuable time on developing larger, more meaningful content marketing projects and social media strategies, you're stuck with the mundane, time-consuming minutiae. Social media management does eat a lot of time out of many a content and social media marketer's man hours that could have otherwise been automated by artificial intelligence.
However, as with any emergent technology, leveraging AI for social media marketing can be a tall task, with AI tools requiring a learning curve to extract the most value out of them.
Let's take a look at some of the most practical use cases of AI tools that content marketers of all persuasions can benefit from, starting with understanding exactly why you should consider incorporating them in your overall marketing strategy.
Highly Personalized, Targeted Marketing Communications
In 2023, it's no longer enough to deliver great products and services. Content creators and marketers are increasingly relying on personalization as a way to create more targeted, engaging, and resonant content for today's more sophisticated target audience that is constantly bombarded with information 24/7.
The new benchmark of success is to proactively forecast and create bespoke solutions specifically created for internet and social media audiences.
Predicting and proactively tailoring solutions to your target market's requirements is the new name of the game as customers become more selective readers and spenders. According to tech giant Salesforce, approximately 62% of consumers want companies to anticipate their needs in advance.
Personalizing content at a massive scale takes serious time and resources to pull off, which is why content marketers are using AI tools in analyzing data, detecting trends online, and deriving valuable advanced audience insights to create powerful, emotionally-engaging content that builds customer loyalty over the long run.
For instance, AI marketing tools can be leveraged to personalize social media posts, paid ads, email sequences, and landing pages based on historical purchases, browsing habits, interests, and geographic location, making the task of audience targeting and social media publishing for specific segments alike significantly easier. It's a surefire way to get more conversions than spamming generic emails with little personalization.
Producing Creative Ideas and Enhancing Copywriting
One of the most important innovations AI tools are bringing to content creation is AI-driven copywriting. AI copywriting tools such as Ghostwriter can create powerful, engaging, and almost human-like content that speaks directly to a particular target audience using natural language generation and machine learning algorithms based on customer queries and sentiment analysis.
With just a bit of fact-checking, editing, and human creativity, it can be used to create hyper-personalized, engaging, and SEO-friendly text content ranging from landing pages, blog posts, social media posts, product descriptions, and Instagram captions to tweets on Twitter.
AI tools can also help generate creative ideas when the creative juices just aren't flowing. They can help suggest content ideas and article titles, and produce outlines and headings based on prompts when creative professionals run into writer's block.
Granted, AI tools aren't the be-all and end-all of an effective AI-driven social media and content marketing strategy — they are only as good as the professionals using them behind the screen. They can't create a comprehensive marketing strategy from the ground up, but they sure can help to:
Generate content summaries for web content, internal documents, and more.
Suggest KPIs to track social media success.
Suggest hashtag and caption ideas.
Brainstorm social media post ideas.
Drill down on user research based on interactions with chatbots or social media assets.
In the context of social media, AI copywriting tools make it easy to create optimized content like captions, posts, and textual and visual content for the top social media platforms such as Facebook, Instagram, Twitter, and LinkedIn with minimal investment in time and resources.
Creating SEO-Optimized Content
AI can be leveraged to generate content that's SEO-ready by analyzing search query intent and then producing content to meet user needs.
Moreover, AI can be harnessed for search engine optimization tasks such as keyword research, link building, and other mundane tasks that form part of a successful SEO strategy — all of which help content marketers get optimal results with less time and effort than it usually takes doing things manually (which is the ultimate goal of using AI tools).
AI SEO tools can also help your content shine in the SERPs, while creating SEO-ready metadata that will help boost your site's rankings on Google. For instance, there are several AI SEO tools that can run analytics on your top competitors, pull any important semantic keywords, and provide recommendations on how to improve your SEO performance based on proven metrics that Google wants to see in your content.
Producing Aesthetic Visual Content
The face of digital marketing is constantly evolving — and so is the way we create visually-appealing images used to sell products, services, or promote a brand. Gone are the days of having to manually create or source high-quality images to go with your social media or blog posts. Generative AI image generators have made it easier than ever for every content creator to craft aesthetic visual content that's social-media-ready to accompany textual content.
A background in graphic design is no longer a requirement for marketers to create eye-pleasing visuals that all help contribute to an engaged audience on any social media platform of their choice.
Streamlining Social Media Content Planning, Scheduling, and Graphic Design
Consistency is part and parcel of a successful social media strategy. Therefore, it's important for social media marketers to produce a constant stream of high-quality, high-value content that the algorithms on major social media platforms can use to put your brand in front of a wider target audience.
AI social media management tools can help you streamline social media scheduling, planning and publishing. Through using smart scheduling tools, brands can automate social media marketing practices and create content, automatically schedule posts, run PPC ads, and stay on top of ad management and users' content feed by using standard social media management.
When these AI-enabled social media dashboards are paired with AI copywriting tools — many of which provide recommended times to post — you can prepare a fully-automated content publishing schedule at the most effective times to do so.
Thanks to AI social media tools, it has never been easier to create high-value social media content that requires minimal human input while making A/B testing a breeze, as well as drumming up an efficient UGC and content curation strategy.
We've created a list of every important AI social media tool that you can use for each of the top major social platforms based on category in the following sections. Try them for yourself and see how game-changing AI really is.
Top AI-Enabled Social Media Management Tools for Content Creation, Copywriting, and SEO
Top AI-Enabled Social Media Management Tools for Analytics and Social Listening
Audiense. For intelligent social listening on Twitter.
Emplifi. AI-driven social media management platform specializing in advanced audience insights and analytics dashboards. Also, Emplifi's unified content feed allows you to view all your social media posts across all social media channels under one dashboard and schedule posts easily.
Vista Social. Similar to Emplifi, Vista Social is a full-suite social media management platform condensing your social media accounts in a unified view for faster, more efficient content production, performance analytics, and overall management.
Meltwater. AI-driven social listening/sentiment analysis tool. Meltwater delivers unique social insights derived from data, content, and engagement from social media users daily.
Smelter. AI-enabled social listening tool that excels in gathering advanced audience insights on social media which allows you to audit you and your competitors' products or services.
Taplio. Create, schedule, and drip-feed months of LinkedIn-optimized content in a short amount of time.
Brandwatch. Social listening and monitoring tool to help you gauge what social media and internet users are saying about your brand (and respond to them).
Top AI-Enabled Social Media Management Tools for Graphic Design and Video Creation
AI Is The Future Of Content And Social Media Marketing
Times have indeed changed. AI has democratized and made content and social media marketing strictly better by making it easy to develop content ideas and create engaging, high-quality content across a variety of platforms that convert — without having to rely solely on your creative juices. There's an AI tool for every task under the umbrella of content marketing, from content curation, production, SEO, and analytics. It's time to take your brand's marketing game to the next level — try AI and see for yourself.