With the world in quarantine right now, what better way to entertain your friends and followers than with Instagram challenges? 🏆
The brand-new Instagram challenges sticker -available in the latest version of Instagram – is a fun way to engage with your followers! It allows you to express your humor, lifestyle, and creativity while you're stuck indoors.
In this post, we're breaking down how to use the new Instagram sticker, and how to find Instagram challenges to participate in with your followers! Plus, we've rounded up 11 of the most popular challenges on Instagram right now to get you started.
Are you ready to take the challenge? 😉
How to Use the Instagram Challenges for Story Stickers
Using the new Instagram challenges sticker is super simple. All you need is a challenge to join, your entry, and Instagram users to tag to keep the fun rolling!
Here's what to do:
Open Instagram Stories
Tap the Sticker Button
Tap the "🏆Challenge" Sticker
Choose a #InstagramChallenge
Tag your friends!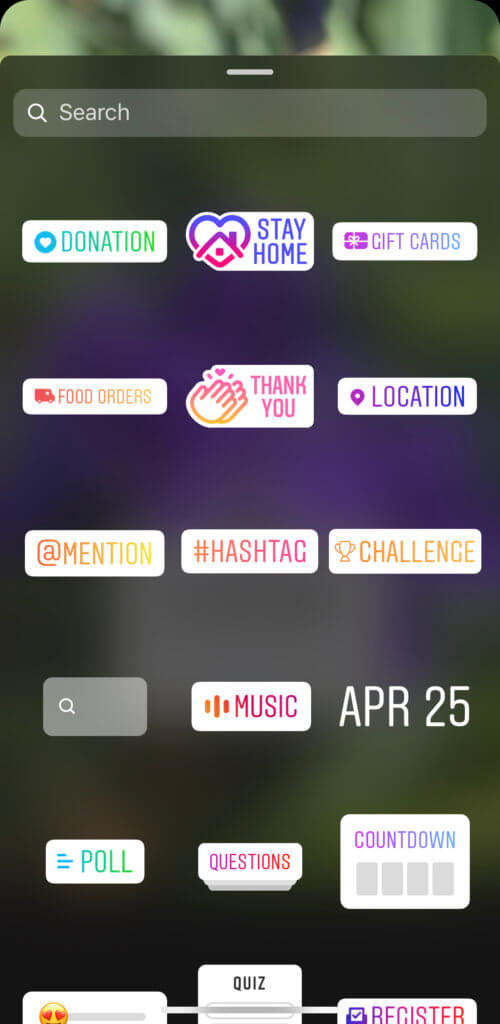 When you're tagged in Instagram challenges for Story stickers, you'll get a notification that you were mentioned in someone's Story.
Tapping the Story in your DM will bring up a pop up menu with two options:
Try This Challenge
Add to Your Story
Tapping "Try This Challenge" will create a new challenge sticker with the handle of the person who nominated you and the challenge name!
How to Find Instagram Challenges to Join
The number of Instagram Challenges loaded into the sticker are currently limited and being updated by Instagram regularly based on trends. So, a little searching is required to see what's available!
Here are the best steps to take when searching out new challenges related to your niche or follower interests:
Open Instagram Stories
Tap the Sticker Button
Tap the "🏆Challenge" Sticker 
Start searching keywords related to the challenge you'd like to do, such as "dance" or "stay at home"
Select the hashtag sticker for the challenge you'd like to use
Nominate a friend
11 Instagram Story Challenges to Join Today
Don't have time to search for Instagram Story challenges to join? No problem – we did the searching for you!
Here are 11 of Tailwind's picks for trending Instagram Challenges to join today!
IG Challenge 1: #StayAtHomeChallenge
This popular Instagram challenge is all about entertaining yourself at home.
Whether you're cooking, hanging with pets or dreaming of your next vacation (hello, location sticker!), this challenge showcases what your life looks like during quarantine!
IG Challenge 2: #BabyfaceChallenge
This Instagram Challenge feed is rife with pictures of baby pets, and we're living for it!
To brighten up your Stories with some seriously. cute pics, post pictures of young pets and children. We can hear the chorus of awwwwwws from here!
Pro tip: If you want to boost engagement your Instagram Story, consider adding more stickers to your challenge entry!
You can use poll stickers, the emoji slider, gif stickers or more to engage with your followers.
IG Challenge 3: #SmileChallenge
The Instagram Smile Challenge emerged in early March 2020 as a cheerful way to combat all the negative news on social media.
Challenge participants post photos or videos of themselves (or their furry friends smiling) and tag friends to do the same.
The result? Instagram Stories filled with beaming smiles, even in stressful times.
IG Challenge 4: #PhotoChallenge
There are a ton of photo challenges and themes circulating on Instagram right now.
From challenges to post the first photo in your camera roll, unedited images or pictures that make you smile, this is a fun customizable challenge to engage with your followers.
If you want to get on board, establish your favorite photo challenge theme and tag some followers!
IG Challenge 5: #BabyPictureChallenge
Calling all Instaparents! The baby picture challenge originally started as a then versus now look at what you looked like as a baby versus present day.
However, lots of people are hopping on the challenge to post irresistible photos of babies doing baby things, and we're here for it.
IG Challenge 6: #MakeUpChallenge
A spin-off from popular Youtube videos and TikTok viral challenges, the makeup challenge has a lot of different sub-themes.
To participate in a makeup challenge, decide what you want the challenge to be.
Some popular topics are, having your significant other or children do your makeup, recreating a popular makeup look, or even 30 days of different looks.
IG Challenge 7: #30DayChallenge
The 30 day challenge on Instagram is exploding with users taking various 30 day challenges. From organizing their spaces, practicing mindfulness, fitness challenges or even Instagram makeover challenges, the options are endless.
Speaking of Instagram makeovers, this hashtag challenge is the perfect one to pair with Tailwind's Instagram Jumpstart course!
In this free email course, you get five days of Instagram bootcamp training with one important task per day. Then you get 30 daily prompts for Instagram posts!
IG Challenge 8: #DontRushChallenge
The Don't Rush challenge on Instagram is named after the song by Young T and Bugsy.
This challenge is a little more complex, but a lot of fun to participate in with a group! Basically, you get a group of friends together and edit a montage of video stories. The subject? Transformation looks from home attire to going out!
Each participant "passes" an item to the next person (most commonly a makeup brush) for their getting ready part, and someone edits it all together in the end. More details about the challenge can be found here!
IG Challenge 9: #MetGalaChallenge
Perhaps our favorite Instagram trend to come out of quarantine is the official Met Gala Challenge, put out by Vogue Magazine and actor Billy Porter.
Because the star-studded event has been postponed this year, Vogue is challenging social media users to recreate some of the most iconic looks from the Gala in years past.
The best user generated content from the challenge will be featured on Vogue, Met Museum and Met Costume Institute Instagram pages.
IG Challenge 10: #SongChallenge
If you've ever thought about curating a playlist for your followers, now's your chance!
The 30-day song challenges for Instagram story are pretty simple.
Each day, post a song that matches the prompt and means something to you personally to share with your followers!
This is a great opportunity to showcase your taste, aesthetic and build your personal brand on Instagram.
Plus, you get to listen to great music while doing it!
IG Challenge 11: #BlackandWhiteChallenge
Looking for easy photo challenges to post? Try the #blackandwhitechallenge.
Its as simple as it looks – post a black and white portrait or photo you've taken to your Stories and tag your followers to join in the fun!
If you need some quick photo-snapping tips, we've got you covered. Check out our ten tips for professional-looking pics!
Start a Free Trial of Tailwind for Instagram!

Pin It For Later 📌: