The Tool That Feels Like a Marketing Team
Create better marketing in half the time with a tool that writes for you, designs for you, and even gives you a plan for growth.
Trusted by 1,000,000+ Brands & Small Businesses


Doing Everything Yourself is Difficult
The Old Way
Stress about having to create and schedule all of your social & email from scratch
Spend hours struggling to find the right words & tweaking copy
Worry about whether your marketing is going to work
Settle for guessing at what's working and what you should do next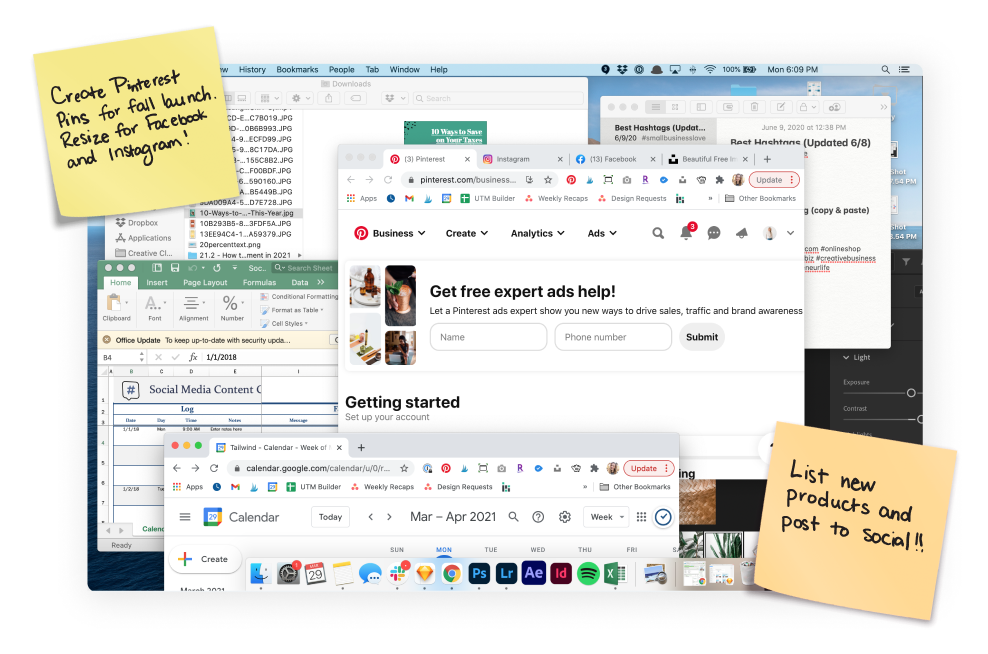 Enter Tailwind,
Your New Marketing Team
A personalized marketing plan for email and social media generated for you.
Always know what to post next
Tailwind gives you post ideas and real-world examples— guiding you every step of the way — so you don't stress about content creation.
Act with confidence
Your plan incorporates proven best practices so you can invest your limited time into the most impactful marketing.
Tailored to your unique business
Tailwind factors in your business type, time available, and more to select the campaigns that will generate the best ROI for you.
Get help staying on track
Tailwind helps you stay organized with an easy to follow plan— it even sends reminders to help you be consistent with your marketing.
Explore Copilot for marketing help
Ghostwriter & Create work together to generate great marketing for you.
Copy on command
Ghostwriter instantly creates the copy you need for you. No more struggling to find the right words and no more writer's block!
A.I. built just for small business marketing
Ghostwriter produces near perfect copy because it's trained on best practices used by professional marketers to generate results.
Photo to designs in seconds
Add a photo - and in a few seconds - you will have hundreds of designs to choose from. It's never been faster to create beautiful social posts.
Automatic personalized designs
Tailwind Create applies your colors, fonts, and logo to every design to give you a completely unique set of on-brand posts sized for each network and ready to share.
Explore Tailwind Create Features
Spend less time scheduling and more
time doing the things only you can do.
Automated social publishing & email follow up
Tired of manually posting? Tailwind automatically publishes your social media content for you and nurtures leads with automated email sequences.
Streamlined workflow
Create and Schedule your social & email marketing in one combined platform so there's no need to upload, download, or save files between different tools.
One calendar for all networks
View all of your social media posts in a single, filterable, calendar. You've never been more organized.
Personalized SmartSchedule
Tailwind picks the post times when your audience is most responsive so you can get the most engagement out of every post.
Explore Scheduling Features
Take the guesswork out of
growing your business.
Capture and convert more customers
Your email and social marketing work better together. With a unified solution you'll reach and engage new customers with social and convert them with email.
The most powerful Hashtag finder
Reach more customers with a perfect mix of massively popular and hyper-relevant hashtags.
Shoppable Smart.bio feed
Drive traffic from Instagram with a shoppable feed that automatically updates as you post.
Connect and grow with Tailwind Communities
Connect with creators, get inspired by fresh ideas, and build relationships in more than 20,000 Tailwind Communities.
Explore Optimize Features
1,000,000+ members love Tailwind.
Tailwind is part of my team.
"Yes, it's a tool, but I consider the app a part of my team because it does so many things and makes my life easier... Like you just put everything on Tailwind, and it does all the work for you. It's a major time saver."
Sandy Dedeian
Rectified.Co