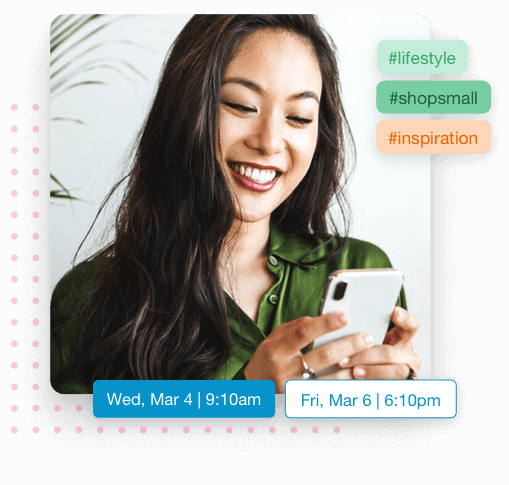 Take the Guesswork Out of Instagram Marketing with a Smart Assistant
Meet Tailwind: The smart Instagram assistant that enables anyone to confidently create scroll-stopping posts.
Try Tailwind free. No credit card required.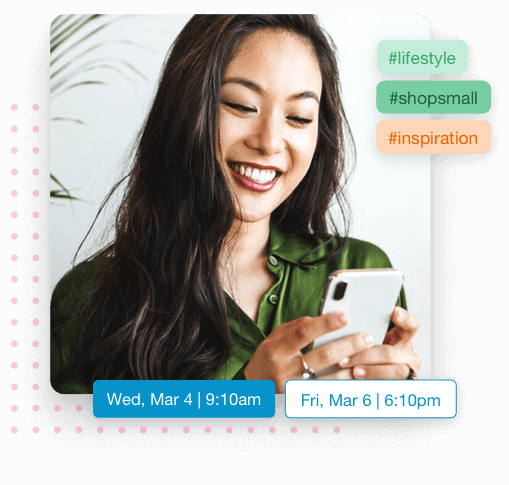 700,000+ Members love Tailwind. We think you will too.


Stop Guessing & Start Growing on Instagram
Create a week of perfectly optimized Instagram posts in 15 minutes, then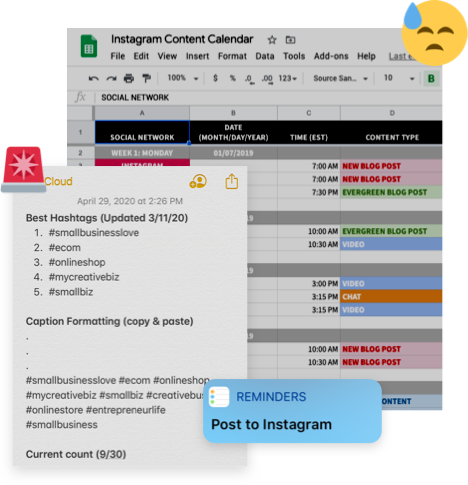 The Old Way
Time-Wasting Guesses
Spend hours scraping together new post ideas
Guess which times & hashtags will get your posts discovered
Update your bio link by hand, over and over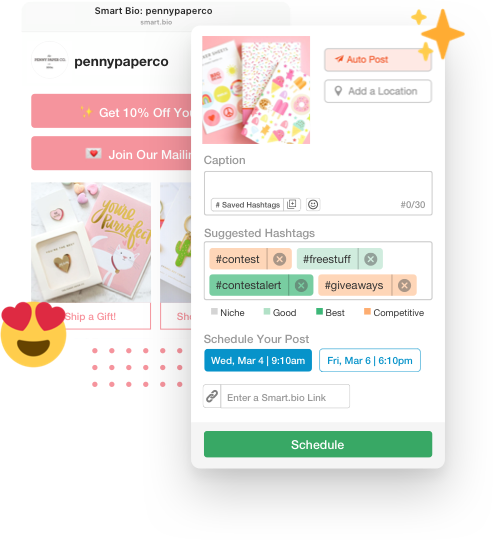 The New Way
Smart Instagram Assistant
Visually plan your Instagram feed with built-in Content Plans
Confidently optimize each post to stand out with SmartSchedule & Hashtag Finder
Smart.Bio auto-updates your links in the background
TAILWIND CREATE
Your Smart Visual Designer
No Design Skills Required
In ONE magical click, Tailwind Create transforms your photos into hundreds of personalized designs for Instagram AND Facebook.
Save Time by Not Starting From Scratch
Stop staring at a blank screen and start choosing from hundreds of "almost done" designs tailored specifically around your niche.
Automatically Applied Brand Styles
Set your logo, fonts, and color palettes ONE time and Tailwind Create automatically applies your brand style to every design.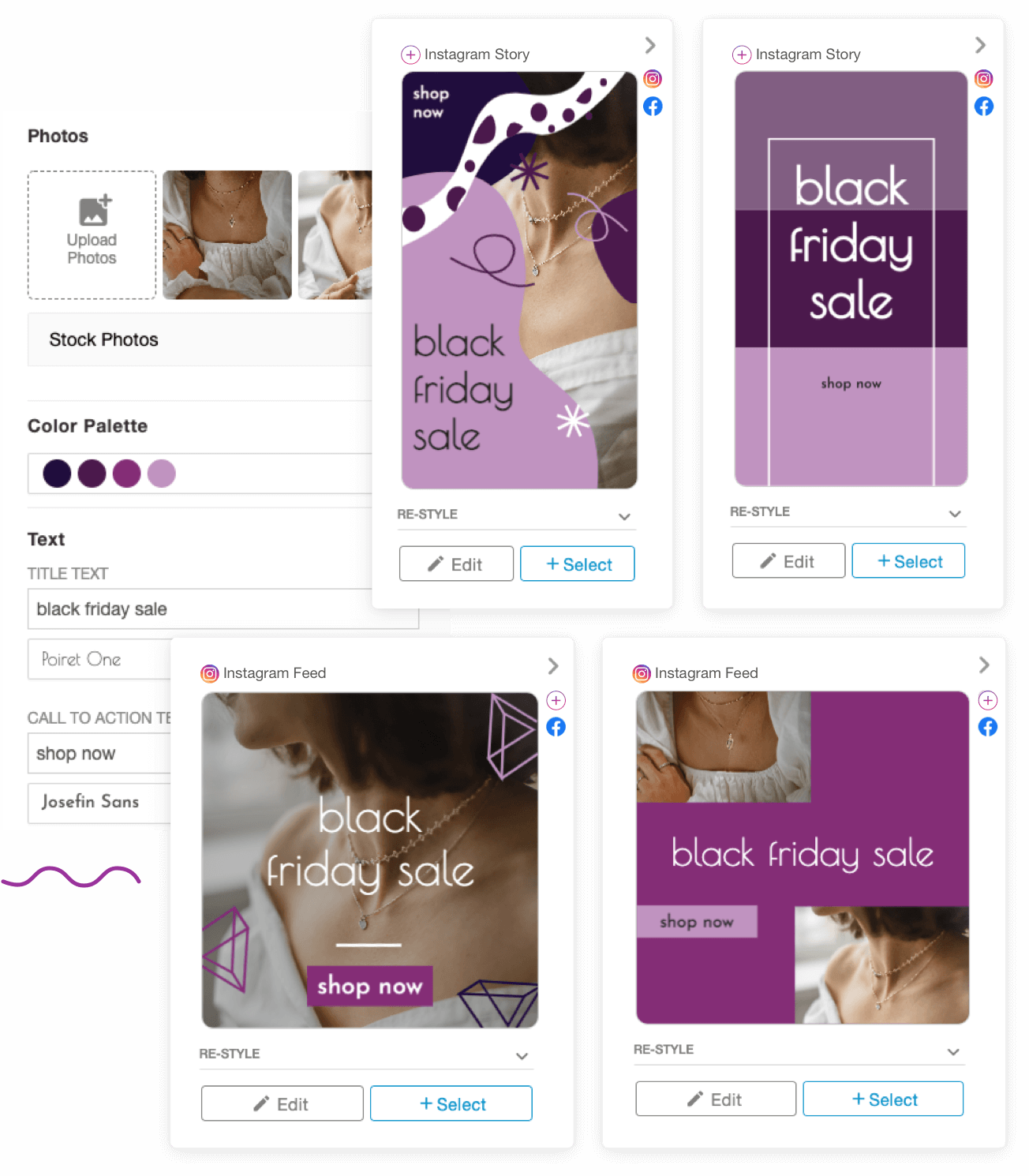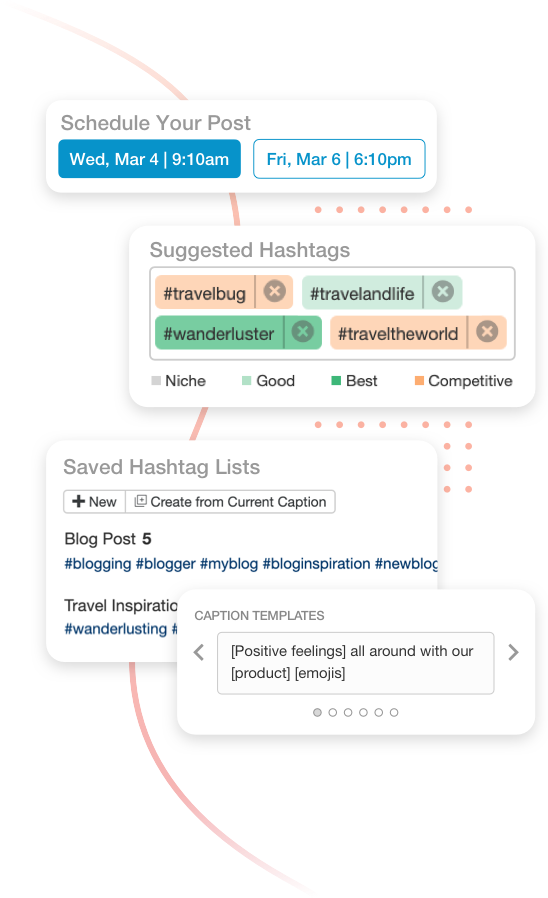 SMART ASSISTANT
Create Confidently with Smart Insights You Won't Find Anywhere Else
SmartSchedule
Let Tailwind pick the post times when your audience is already most engaged to get more engagement out of every post.
Hashtag Finder
Reach more people with the perfect mix of massively popular and hyper-relevant niche Instagram hashtags to get discovered by the right followers.
Time-saving Shortcuts
Save top-performing Instagram hashtag lists, tag relevant users and locations, and format your caption all in one place.
Visual Planning
NEW
Never Run Out of Ideas and Visually Plan an Eye-Catching Instagram Feed
Content Plans
Not sure what to post? Content Plans provide ready to use post ideas customized to your business type so you're always ready to create.
Visual Planning
Drag and drop to preview your 9-grid and guarantee your profile always looks too good to ignore.
Explore Instagram Planner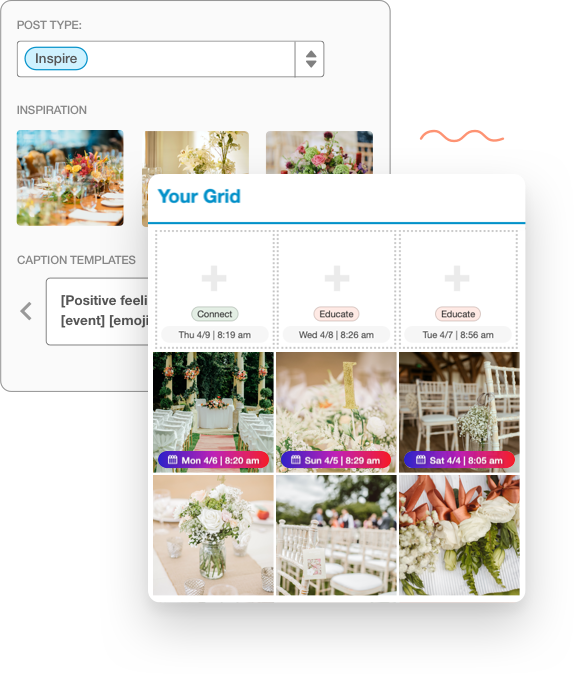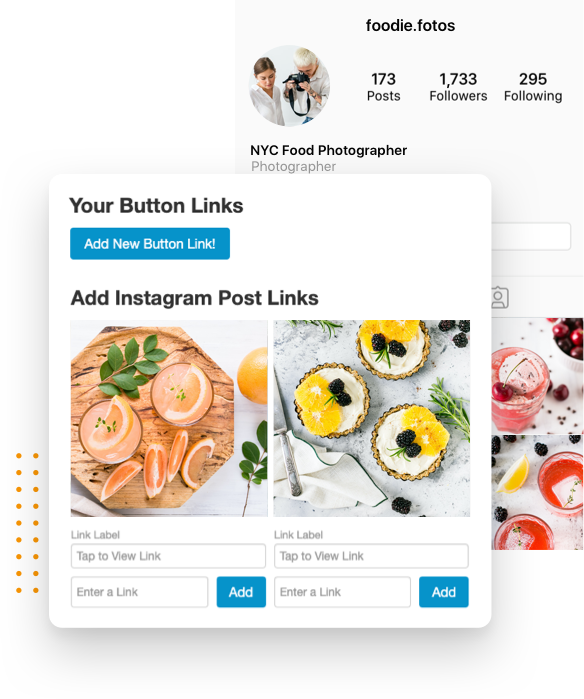 Smart.bio
Drive More Traffic 24/7 with an Auto-Updating Bio Link
Free Landing Page
Create your branded landing page for free, then send a never-ending stream of traffic from your Instagram bio to your most important content.
Add Clickable Links
Add a link to any Instagram post in a single step. We'll instantly update your custom landing page behind the scenes so everyone can click through to your website, blog post or product listing.
Explore Smart.Bio
Simple Analytics
Analyze What's Working Across Every Post and Profile
Profile Performance
Plan confidently with a snapshot of your Instagram profile's most important growth metrics like followers, likes and comments.
Post Inspector
Pinpoint which top-performing posts net you the most likes and comments so you can reproduce what's working.
Summary Reports
Choose to receive daily, weekly or monthly digests of your most important Instagram metrics for healthy growth.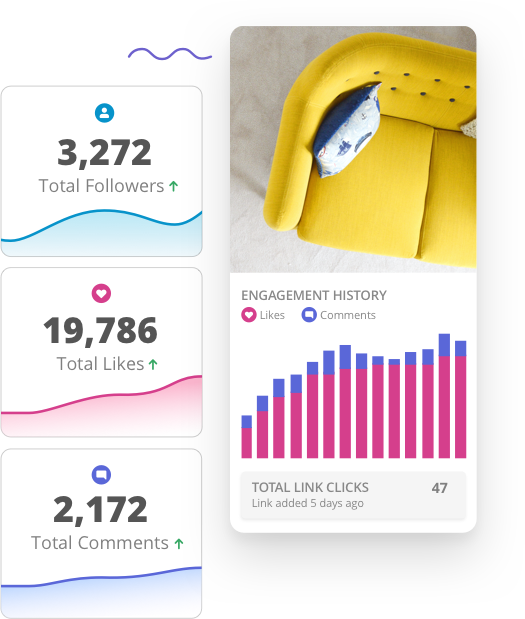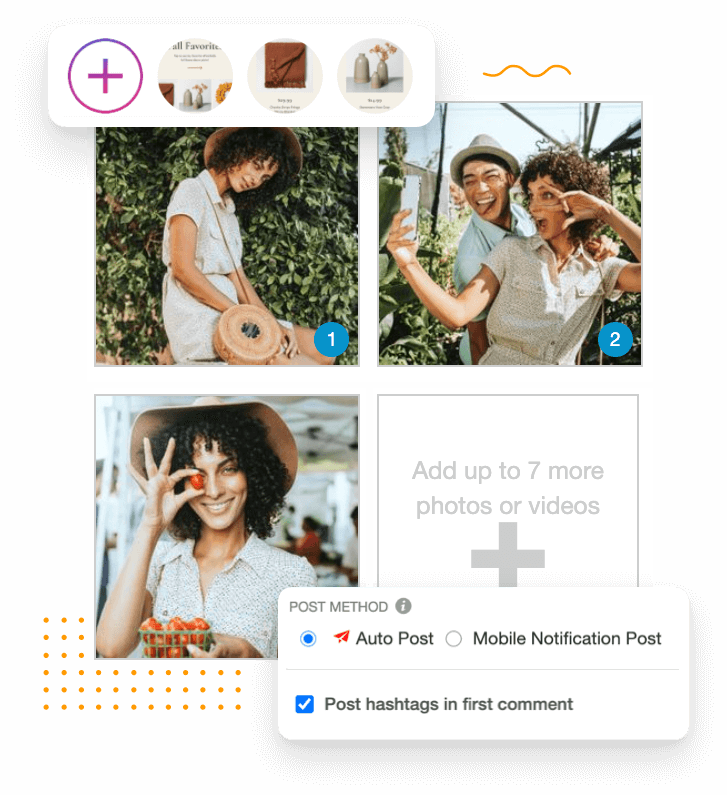 Smooth Scheduling
Publish With Peace of Mind
Auto Post to Instagram
Ditch the distractions and pesky push notifications. Tailwind automatically publishes your posts and videos to Instagram.
Schedule Stories and Multiple-Image Posts
Boost your engagement by scheduling ALL of your Instagram content including multiple-image posts and Stories.
Schedule Hashtags in First Comment
Keep your captions looking clean by scheduling your hashtags to post in your first comment instead of your caption.
Instagram Scheduler
100% Safe to Use
Tailwind is an official Instagram Partner, so you can rest easy knowing your account is safe.
What People Are Saying About Tailwind for Instagram
Can I just say? I freakin' love @TailwindApp. I've used Hootsuite, Crowdfire, Meet Edgar and Buffer, but Tailwind is my fave. They all have their pros and cons, but the TW has the most going for it.

— Nancy Basile | DIY Online Marketing (@NancyBasile14) March 27, 2019
It only took me until the last 2 days of my free trail but...

I FREAKING LOVE @TailwindApp!!

Such an incredible resource for bloggers! Keeping your Pinterest active, increasing traffic to your blog and helping to keep old blog content evergreen.

— Joëlle Anello (@lapetitenoob) March 9, 2019
Shout out to @TailwindApp for helping me out with Pinterest when I have 100+ other things on the go 🌟🙌🏻

— Cyn 💕 | lifestyle + Ottawa (@cynspo) March 27, 2019
I only have good things to say about @TailwindApp - their product is amazing and their customer service is even better. I LOVE when companies are as passionate about their users as they are their product.

— Lauren "Elle" Mulenos (@ElleMulenos) November 21, 2019
Found out I can schedule IG stories from @TailwindApp oh no... look at this game changer! 😩🙌🏾

— Christyyyyyy🇧🇸 (@n_goddessxo) August 11, 2018
Even More Smart Instagram Features to Save Time & Grow
Hashtag Lists
Save top-performing lists to instantly add your best hashtags.
Hide Hashtags
Send each post's hashtags into the first comment.
Caption Formatting
Insert line breaks, bold and italicize text, or add in emojis to any caption.
Auto Post
Upload any single image or video and it will publish directly to Instagram.
Schedule Videos
Add your videos to the queue and we'll post them directly to Instagram.
Tag Users
Search, add, and tag any Instagram user to any post.
Tag Locations
Easily add the right location to boost your post's visibility on Instagram.
Browser Extension
Regram Instagram images straight from your browser.
Multiple Accounts
Toggle between every Instagram account that matters to you.
Invite Teammates
Add a collaborator to help you create and manage new posts.
Multiple Image Scheduling
Plan & schedule multiple image posts to boost your engagement.
Ready to Stop Guessing & Start Growing on Instagram?
Try Tailwind free. No credit card required.
On average, Tailwind members get 1.8x more likes and 2x posts published on instagram.
See Typical Results